Fairweather Brewing – Scuzi Italian Pilsner (473ml)
Beer Style

Italian PilsnerThink of a German-style Pilsner, known for its light body and drier, more hop-forward character, and dial up the dry-hopping of noble hops even more! Learn More

Tasting Notes

BitterCrisprefreshing
After a few incidents of fate and circumstance, Fairweather opened its doors in May 2017. The brewery is home in a revitalized warehouse in west Hamilton's Ainslie Wood neighbourhood. In addition to a taproom and bottle shop, they have a 60 seat patio, and a 10,000 square foot production facility which doubles as an event space.
Whether the brewers area exploring bright hoppy IPAs, rich, silky stouts and porters, elegant, classic continental lagers, or fruited and oak-aged beers that explore the edges of what beer can be, Fairweather will never be satisfied. They will tirelessly strive to create the best beer you will find anywhere. Period.
Tasting Notes
This beer is elegant and interesting despite being a low abv pale lager. Fairweather's latest foray into another lager style, Italian pils. This style is crisp & clean, and defined by its dry hop. The brewers have gone with the Saaz hop, and have also used Italian Adriatic Coastal barley from the region around the city of Eraclea, close to Venice, which has a lovely sweet honey note.
Method
Italian Pilsner, when talking in the context of craft beer, refers to a sub-style of Pilsner that was developed in the mid-90's by Birrificio Italiano. The style takes a German style Pilsner, already known for its light body and drier more hop-forward character, and dials up the dry-hopping of noble hops even more. The resulting beer is very aromatic and has an almost fluffy texture. Fairweather brewers also used the Weihenstephaner German lager yeast.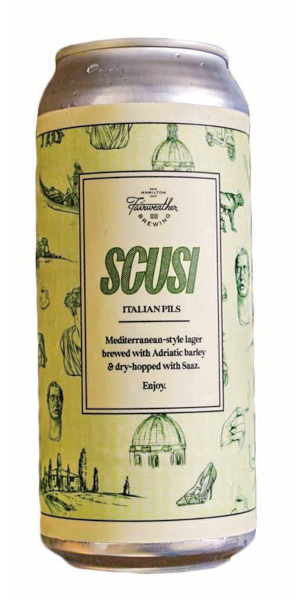 You may also like...
Express Shipping!
For select shipping postal codes, this product may be eligible for Express Delivery! Click here to learn more.