Faury Collines Rhodaniennes Syrah (750ml)
Sub-Region

Northern Rhone
Domaine Faury is one of the region's most artisanal producers. When Philippe Faury took over the domaine in 1979, the family was selling wine, peaches and cherries, and the bulk of their clientele was local. Over the years, Philippe expanded their holdings to over eleven hectares, and expanded sales to an international client base. In addition, he has shared his savoir faire with his son, Lionel. The steep slopes of the northern Rhône present a challenging terrain where farming is only feasible through terracing. On these terraced slopes, the Faurys' vines take full advantage of the southern and southeastern sun exposure, benefitting from optimum ripening.
Tasting Notes
A Syrah that leaps out of the glass with aromas of ripe olives, violets, and an array of black fruits. Inky and concentrated blackberry fruit with an underlying granitic stone quality on a long finish.
Method
The grapes are grown on predominantly granite soils in the appellation of Collines Rhodaniennes on a plateaus at higher altitude than Saint Joseph.  80% of the grapes are de-stemmed, softly crushed and undergo a 10 day maceration in temperature controlled tanks to assure a fresh and lively wine style.  Pigeage, the punching of the cap, is not carried out  with tools, but gently by foot.   Unlike many other vignerons in the  region, the Faurys have a strong aversion to new oak. Though the reds definitely see time in barrels,  there is a rotation between new and old alike, along with a variety of sizes, ranging from the smaller  barriques to the larger 600-liter demi-muids.  This wine is aged for 6 months in 3 to 10 year old demi-muids.  The wine is unfined and only lightly filtered before bottling.  
The Collines Rhodaniennes is the IGP (Indication Géographique Protégée) category that focuses on geographical origin rather than style and tradition, and gives winemakers greater stylistic freedom than if the Appellation Origin Controllee category.   The designation is for for red, white and rosé wines from an area which essentially corresponds to the northern Rhone Valley. The area encompassed entitled to use the the Collines Rhodaniennes title stretches from Lyon in the north to Montélimar in the south.  The landscape of the area is characterized by the hills and valleys that surround the Rhône river. The Massif Central lies to the west and the foothills of the Alps to the east. The Rhône river carving its way through the sandstone, limestone and granite between them.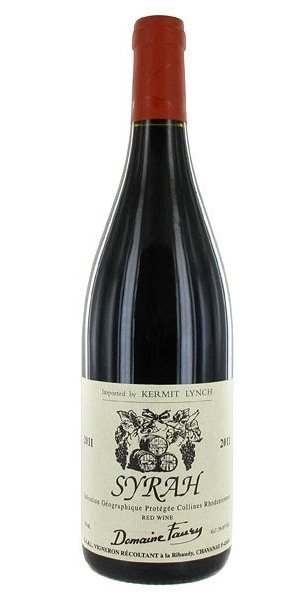 You may also like...