Feudo di Santa Tresa Rosa (750ml)
Grape

FrappatoNero d'Avola

Food Pairing

AperitifFish TacosSushi
Brother and sister Stefano and Marina Girelli, wine entrepreneurs from Trentino, discovered the winemaking region of Sicily and purchased Santa Tresa in 2001.
Santa Tresa (Sicilian dialect for Santa Teresa) is nestled in Vittoria, in the south east of Sicily; their estate encompasses 50 ha of land, 39 ha dedicated to vineyards. When the winery and properties were acquired in 2001, indigenous clones of Frappato, Nero d'Avola, and Grillo were discovered, planted across the existing vineyards. Aside from the abundance of indigenous varieties they already cultivate, an organic, experimental vineyard is used to rediscover other indigenous grapes, with their traditional vines. Within this experimental plot, Albanello and Orisi are grown- ancient varietals that date back to nearly the beginning of winemaking in the region. More recently, the winery has decide to source all their water from a local reservoir, using only natural rainwater for any irrigation. On top of that, green beans are grown and used to make natural fertilizer.
Tasting Notes
A beautiful pale pink colour with hints of copper. Notes of berries on the nose with hints of violet and wild rose. The palate is elegant and persistent, with raspberry and wild strawberry fruit and excellent acidity. Use as an aperitif, pair with your favourite fish tacos, or even use alongside a big platter of sushi.
Method
Made from 50% Nero d'Avola, 50% Frappato, the grapes were hand-harvested, then chilled overnight to lower the temperature to 6-8°C, thereby protecting the aromatics. The colour of "Rosa di Santa Tresa" is created thanks to a natural maceration on the skins in the pneumatic press, at a cool temperature, for 2 hours for the Nero d'Avola and 4 hours for the Frappato. The grapes are very delicately pressed and the mustt is kept overnight at a 10°C to allow natural sedimentation. Fermentation for 12 days at about 17°C ; the two wines are then blended together and left on the fine lees for 3-4 months before bottling.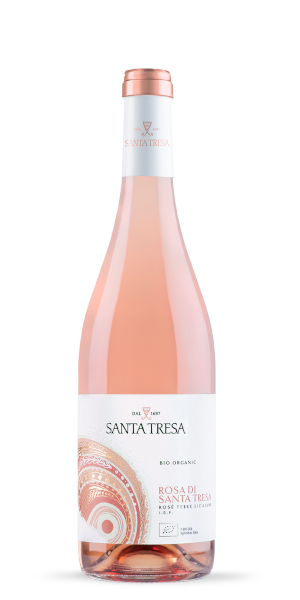 You may also like...