Fibbiano Le Pianette IGT (750ml)
Food Pairing

Pasta DishesPizzaRed Meat
The staff at Bishop's Cellar are excited to have a few wines from Fattoria Fibbiano in the shop thanks to a happy accident at a Prowein, where Jason Macleod thought he was going to a meeting to taste Burgundies and ended up tasting some delicious organic Tuscan wines instead. He then suggested that our colleague Jason Macphee seek them out later at VinItaly to confirm that the wines he tasted were as delicious as he thought. Indeed they were and so we ordered them for you. Fattoria Fibbiano is a family-run farm.
The whole family has lived and worked there since 1997. Giuseppe, the father, deals with the general management of the estate and takes care of the vineyards and countryside. Matteo, the eldest of the two sons, is in charge of marketing the wines and his brother, Nicola, is the winemaker who oversees the entire wine-making process. Three generations of the Cantoni family live in one part of the 1,200 m2 farmhouse which also houses the agritourism. The land surrounding the farm is only treated using organic fertilisers and human intervention is kept to a minimum. From the point of view of energy consumption, the agritourism is completely self-sufficient with a 30-KW photovoltaic plant, a solar plant for the production of fresh water, and central heating which uses the wood obtained from pruning the river banks and from clearing the woodland. Fattoria Fibbiano is a certified organic farm
Tasting Notes
This is a blend of 70% Sangiovese and 30% Colorino from the Tuscan hills around Pisa. The soil here is a medium rich consistency composed of marine shells. The grapes are planted at a high density at 200 mts and manually harvested mid September. They are gently destemmed, crushed put into stainless steel tanks for 10 days. Alcoholic fermentation takes place through indigenous yeasts living on the skin. The wine ages for 4 months in cement tank where the malolactic fermentation takes place and later for 12 months in Slavonian wooden barrels and finally 4 months in bottle. The result is a ruby red coloured wine with lots of spicy aromas and well structured smooth tannins. Enjoy with red meats, pasta, pizza and semi hard cheese.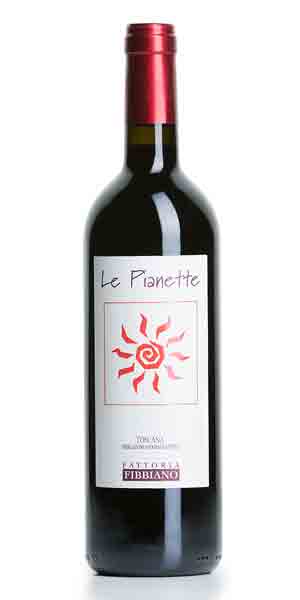 You may also like...