Flick Hochheim Königin-Victoriaberg  (750ml)
Farming Method

ConventionalMost products with this label come from producers who do their best to avoid any intervention at all but it's possible that some of the aforementioned preventative measures and additions are deemed necessary. Learn More

Food Pairing

HamSeafoodSpicy Foods
The Flick family have been winegrowers in the village of Wicker in the Rheingau since 1650. Wicker is one of the oldest winegrowing communities in the Rheingau. The vineyards benefit from sunny southeastern location on the hillsides of Wickerbachtal and the area was already noted in Roman times; wine was cultivated there, as shown by various archeological finds.
Johann Pillippo Flick was the first 9 generations to make wine here, in 1973 Joachim Flick took over the family estate followed by his son Reiner Flick in 1992 who expanded it to its current size, and ensured that the quality steadily improved. There is enormous substance in Reiner Flick's wines, from old grapevines and low yields. The wines are crystal-clear, mineral styles which excel through firm, racy acidity from first-class viticulture. They focus mostly on Riesling and Pinot Noir, though do grow other varietals and farm sustainably. They use local Taunus oak for their barrels.
Queen Victoria visited Hochheim with husband, Prince Albert, in 1845 and was invited by the town fathers to a wine tasting in the "most beautiful and best vineyard" in the area. Georg Michael Papstmann, who owned the vineyard at that time, was granted the favor by the English court in 1850 to name this vineyard "Queen Victoriaberg". On the occasion of the Queen's 35th birthday, on May 24, 1854, the proud winegrower unveiled the Victoria Monument in the middle of the 5 ha vineyard. The coat of arms of the Queen of England still adorns the label in neo-Gothic style and is proof of the special favor bestowed on this vineyard. To this day, the Riesling of the Victoriaberg has been savored by the English royal family on many occasions.
Tasting Notes
The Victoriaberg conjures up liquid gold in the glass. Pronounced aromas of pear, apricot, white peach paired with spicy notes unite on the palate. This is a classy, ​​elegant and incredibly radiant wine. Dry Riesling is very food friendly; at once intense and concentrated in terms of flavour and structure, but never heavy or at risk of overwhelming a dish. It can be enjoyed with a range of foods, seafood, vegetarian dishes, chicken and pork.
Method
Probably the most famous vineyard of the winery and one of the most acclaimed ones in Germany is the "Hochheimer Königin Victoriaberg" where the grapes for this wine are sourced. Its majestic name 'Queen Victoriaberg' derives from Queen Victoria's love for good Riesling wine. 
60% of the juice is fermented in wooden barrels and 40% in stainless steel tanks.  The wine is dry and finishes at about 5 g/L RS with 12.5% alcohol.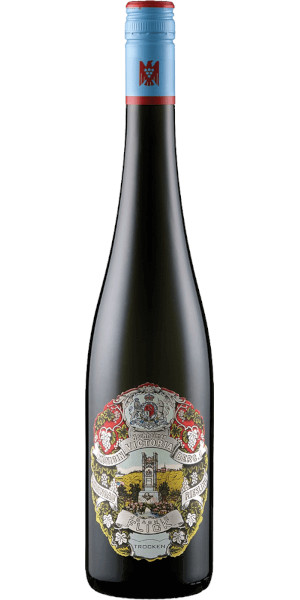 You may also like...
Express Shipping!
For select shipping postal codes, this product may be eligible for Express Delivery! Click here to learn more.