Flick Vini et vita Riesling (750ml)
Food Pairing

FishoystersSushi
The Flick family have been winegrowers in the village of Wicker in the Rheingau since 1650. Wicker is one of the oldest winegrowing communities in the Rheingau. The vineyards benefit from sunny southeastern location on the hillsides of Wickerbachtal and the area was already noted in Roman times; wine was cultivated there, as shown by various archeological finds.
Johann Pillippo Flick was the first 9 generations to make wine here, in 1973 Joachim Flick took over the family estate followed by his son Reiner Flick in 1992 who expanded it to its current size, and ensured that the quality steadily improved. There is enormous substance in Reiner Flick's wines, from old grapevines and low yields. The wines are crystal-clear, mineral styles which excel through firm, racy acidity from first-class viticulture. They focus mostly on Riesling and Pinot Noir, though do grow other varietals and farm sustainably. They use local Taunus oak for their barrels.
Tasting Notes
This Riesling is characterized by its crystal clear fruit, minerality and freshness. The palate is bright and lively with focused acidity and clean crisp finish. Enjoy this with
light fare; delicious with sushi, white fish, Pad Thai and fresh greens.
Method
The Vini et Vita is an estate wine that is made from various plots of the best Wicker and Hochheim vineyards.  The grapes are c
ool fermented in stainless steel tanks and the wine finishes with about 7 g/L RS and is considered dry by German wine standards.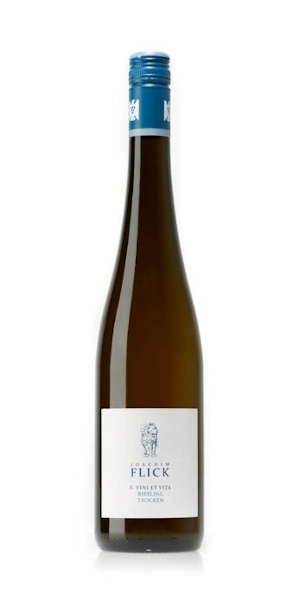 You may also like...