Fontanelle Stiglianese II (750ml)
Food Pairing

CheesePasta DishesRoast meats
Azienda Agricola Fontanelle consists of four farm buildings on 55 hectares of land, west of Chianciano in Southern Tuscany. Being a small family-run business has enabled its owners to produce a limited yet prestigious selection of wines, Chianti DOC, Toscana IGT and Vino Nobile di Montepulciano. In addition to wine production, the family's love for their land and tradition, means that they also produce extra-virgin olive oil, breed Tuscan pigs, called cinta senese and practice arboriculture.
The wine production, which is exclusively from the owner's vineyard, is intentionally limited. The choice of looking after small areas of land containing the best characteristics of soil, the optimum position and the decision to plant native vineyards with a density of 5-6000 groves per hectare have awarded the owner with high quality wines that are among the more traditional Tuscan classics, but well-structured and complex.
Tasting Notes
The wine is very deep ruby red colour and an intense aroma with spicy notes, very well blended with red-berried fruits. The palate is full, plush and structured showing balance and a long pleasing finish.
Method
Stiglianese is 100% Sangiovese from vineyards extending into the hill area around Chianciano (Siena) at an altitude of 500 to 530 metres with West-South/West exposure on mixed structure soil of loas with clay in parts.  The harvest is carried out by hand, from the end of September to the middle of October.  Soft crushing and fermentation at a controlled temperature, never above 28°C and with 15 days of skin maceration.  The wine ages in small, 225-litre Allier oak barrels for at least 15 months and in bottle for at least 6/8 months. 
Our Thoughts
In October 2018 Jason MacLeod and I got the chance to accompany a group of Bishop's Cellar customers to southern Tuscany on a wine tour. One of the highlights of the trip was a leisurely lunch and wine tasting at a stylish wine bar in Chianciano where the sommelier, Ettore, introduced us to the wines of Fontanelle, which were made by his friends just down the road. We thought that our friends back home in Nova Scotia ought to try these wines too. If you want the full taste experience, these wines sing when paired with simple Tuscan fare; try them with a bowl of hearty Tuscan chickpea soup and rustic bread or Pecorino cheese and cured meats.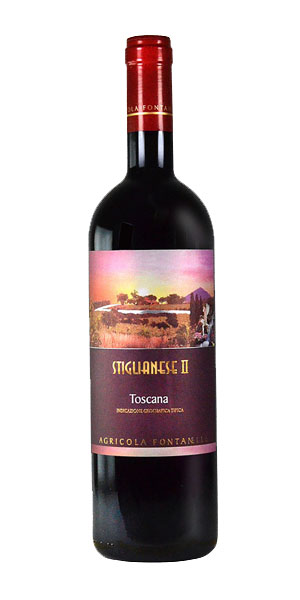 You may also like...