Garrison – Hoppy Boy IPA 6pk (2130ml)
Garrison Brewing Company, located in Halifax, follows the rich brewing tradition in Nova Scotia by producing premium ales of distinction for the local market. Garrison brews a variety of full flavored, all natural, preservative free ales. Each glass represents a tribute to the art of hand-crafting ales with the finest natural ingredients.
Tasting Notes
Rockin' on the East Coast, this tasty beacon of hopped up refreshment boasts shiploads of aroma and finishing hops with zesty & citrus notes a nautical mile long.
Pours golden. Well-hopped and slightly malty nose with sweet, floral, tropical and citrusy aromas. Good balance of malt and fruity hops with sweet and citrusy flavours and a pleasant bitterness.
6.5% abv
Method
Hoppy Boy is a hybrid between West Coast and New England-style IPAs. Meaning there is a firm bitter backbone paired with some herbal dank notes, and also a heavy hand of dry hopping and "juicy" character that lends a more easy drinking beer.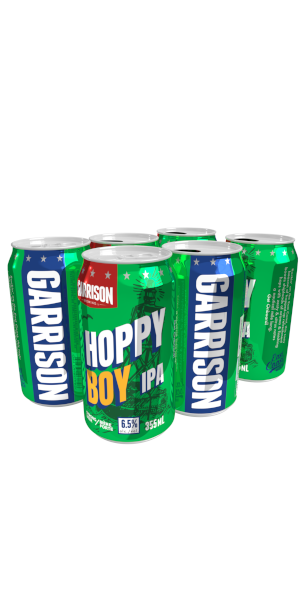 You may also like...