Garrison Pucker Up! (473ml)
Garrison Brewing Company, located in Halifax, follows the rich brewing tradition in Nova Scotia by producing premium ales of distinction for the local market. Garrison brews a variety of full flavored, all natural, preservative free ales. Each glass represents a tribute to the art of hand-crafting ales with the finest natural ingredients.
Tasting Notes
Pucker Up! pours deep pink and has intense and vibrant aromas of red fruits, hibiscus, and subtle citrus hop character. The palate follows suit with similar flavors, and is refreshingly tart with just a touch of residual sweetness.
Method
This beer is brewed with Pomegranate, Hibiscus, Rosehip's and Cranberry. It is a craft beer take on the classic German Berliner Weisse – a light wheat beer that's purposefully inoculated with souring bacteria to create a pleasant tartness. The style is traditionally blended with various fruits to help balance out the acidity. This is Garrison's take on the style, and brewed to be fairly approachable for new sour beer drinkers.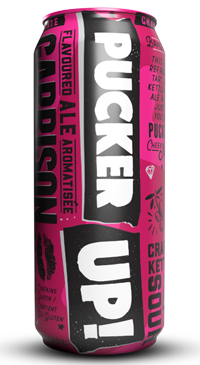 You may also like...