Glengarriff Series Bog Oak Charred Single Malt (700ml)
Spirit Type

Irish Whiskey
West Cork Distillers was formed in 2003 by childhood friends, John O'Connell, Ger McCarthy and Denis McCarthy. Although they started out with just 2 schnapps stills in the back of Denis' house, West Cork Distillers currently operate out of a 12.5 acre site on Marsh Road, with a distillation capacity of 4 million litres of pure alcohol.
With distributors across the globe, their award winning West Cork Irish Whiskey is now sold in almost 70 countries. West Cork Distillers mission is to make quality Irish Whiskey accessible while also maintaining their Irish ownership and staying true to their West Cork heritage. Their new distillery and visitor centre will open in 2020, making them the largest, wholly Irish owned distillery in the country.
Tasting Notes
This whiskey starts strong with a fruit-meets-smoke character reminiscent of fine Mezcal. The palate is rich and oily-textured with dried apples, raisins, cocoa, smoked honey and a distinctively forest floor element that's quite unique. The finish is sweet, soft, and rich with burnt barley sugar and waves of applewood smoke and peppery spices that linger.
Method
This special release whiskey is a triple-distilled single malt aged in Sherry Casks for a minimum of 2 and 1/2 years and then finished for 4 – 6 months in barrels that have been charred using bog wood salvaged from bog lands in the iconic Glengarriff Forest in Southern Ireland. This unique process of toasting the barrels with bog wood requires that West Cork uses a proprietary charring device built by the distillery with the guidance of a local fifth-generation blacksmith.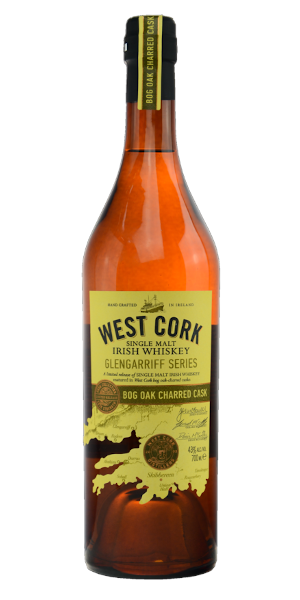 You may also like...