Goats Do Roam White (750ml)
Food Pairing

Cold SaladsSeafood
The Fairview estate, located at the foot of the Paarl mountain, is rich in history. Only recently, while preparing the land to plant new vineyards, prehistoric tools were unearthed in the location and records show that Fairview was a working farm as far back as 1693. It is considered to be one of South Africa's first wine estates (official tax records of the time note a farm inventory and list a few barrels of wine) and continues to make fine wine today. Fairview is a third generation family owned farm, raising goats (over 1000 Saanen goats roam the land) and cultivating vines. In light of these strong ties to the land, the Back family is committed to the preservation of the local environment. Fairview has various measures in place to ensure that their farming and wine production practices meet and exceed the standards set by local and international authorities for sustainability and they have been recognized for their outstanding efforts.
Tasting Notes
Viognier, Grenache Blanc, Roussanne. Rich aromas of peach and pear with floral fragrance and citrus. Mouthfeel has richness, and fruit flavours follow through from the nose with honeysuckle on the finish.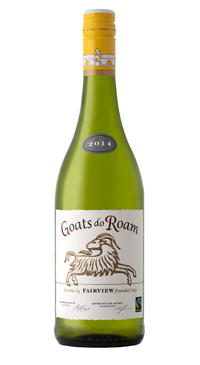 You may also like...