Godspeed – Sklepnik "Pitch Lined" Pilsner (355ml)
Beer Style

Czech-Style Pale Lager

Tasting Notes

Bitterrefinedsnappy
Godspeed Brewery owner and head brewer Luc "Bim" Lafontaine cut his teeth homebrewing in the 1990's, and then eventually became the brewmaster at Monteal's famous Dieu du Ciel! brewery. After leaving Montreal to live in Japan and open his own brewery, Lafontaine was caught between red tape and the pull of coming home, so he came back to Canada and opened Godspeed in 2015.
Lafontaine is striving to craft beers of simplicity and finesse that express the cardinal flavor of their ingredients. He draws inspiration from traditional Czech brewing and Japanese cuisine, prizing above all the keen attention and care required to allow each element to articulate itself as a discrete part of the composition. When it comes to Godspeed beers, an "inspiration first" approach is taken; each release its own capstone after many years of travel, collaboration, experimentation, and personal growth. The beer portfolio is intentionally eclectic, running the gamut from bright hoppy pale ales, to classic malt-driven lagers, to bubbly and acerbic saisons. At Godspeed, great pride is taken in honouring centuries-old brewing traditions while putting their own stamp on a variety of styles, often with the help of expressive Japanese ingredients.
Tasting Notes
This Czech Pale Lager (Pilsner) will be the closest tasting to the real thing that you'll find outside of the Czech Republic, the Czech government even said so!
Ageing and conditioning in Czech oak barrels gives this lager a texture like no other, and the robust hop character from Czech Saaz hops and double-decoction mashing gives flavours and character that you can't get any other way.
Method
Godspeed's brewmaster visited Pilsner Urquell's underground cellars and tasted their original pitch lined barrel-fermented and conditioned golden lager, and that left an impression no other beer experience can. He set out to create the closest version of that beer that he could, and drew from his experience when making Sklepník. He is the only brewer outside of the Czech Republic to have been sent actual oak barrels made by Urquell brewery to make this beer – a great honor.

Sklepnik "Pitch-Lined" is the newly revamped version of this beer, and was conditioned in 40hL pitch-lined barrels from Pilsner Urquell. Double decocted and naturally carbonated.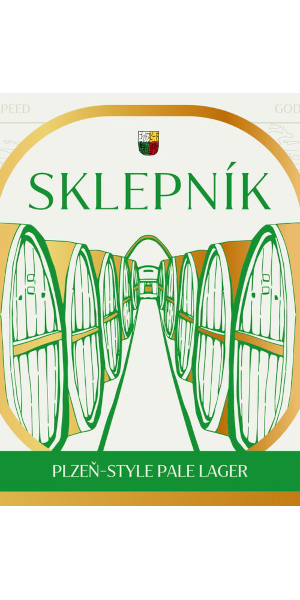 You may also like...
Express Shipping!
For select shipping postal codes, this product may be eligible for Express Delivery! Click here to learn more.