Grand Pre Moscato Can (250ml)
Food Pairing

AperitifFish TacosSpicy Foods
Domaine de Grand Pré makes polished and elegant Nova Scotian wines. The Domaine is known for its crisp and clean flavour profile and they pride themselves in using only 100 per cent Nova Scotian grown grapes. They grow specialty grapes that were developed for the Nova Scotian climate and landscape and the resulting wines wine awards year after year.
Tasting Notes
This light, refreshing wine is crafted from 100% Nova Scotia grown grapes and showcases flavours and aromas of pink grapefruit with notes of honeysuckle and peach blossom. The low alcohol, slight effervescence, and fruity aromatics of this wine are perfect for any occasion.
Method
Winemaker's Notes:  The Moscato reminds me of growing up in Switzerland, drinking Italian Frizzantes and Moscato d'Astis. The relatively high residual sweetness is balanced with its well-structured acidity, making it light and refreshing. But why cans? As a winemaker, it is exciting to explore and experiment with new formats. Because of its slight effervescence and easy drinking nature, we feel the Moscato is well-suited to take advantage of what a single-serve format can offer to wine drinkers. We are excited to see how people respond with such a popular wine.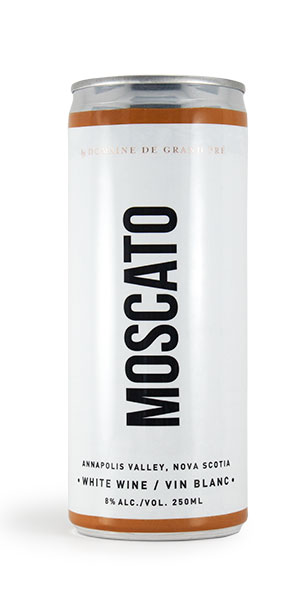 You may also like...