Grand Pre Riesling Icewine 200ml (200ml)
Sub-Region

Annapolis Valley

Food Pairing

CheesecakeCheeseFruit based desserts
Domaine de Grand Pré makes polished and elegant Nova Scotian wines. The Domaine is known for its crisp and clean flavour profile and they pride themselves in using only 100 per cent Nova Scotian grown grapes. They grow specialty grapes that were developed for the Nova Scotian climate and landscape and the resulting wines wine awards year after year.
Tasting Notes
Intense aromas and flavours of fresh honey, sweet pear and dried apricots give way to pleasing notes of candied citrus and whispers of minerality. Exceptionally balanced with a rich fullness and lingering finish. Enjoy this as an alternative to dessert with a selection of cheeses, or pair with fruit based desserts, custards and apple pie.
Method
The Riesling grapes were hand-picked by members of the Grand Pre vineyard staff, wine shop staff and friends, in the early morning hours of December 13th, 2021 in their Mitchell Hill Vineyard in Grand Pré.  It was a clear night and the temperature read minus 13 degrees Celsius.  They started picking in the dark, with just the lights of two tractors at each end of the rows and headlamps, which gave the team just enough light to find the frozen grapes between the netting and the snow. About an hour and a half into picking, the sun started to rise, which gave way to the beautiful view of the landscape and Cape Blomidon, still cold enough to finish picking the rest of the grapes.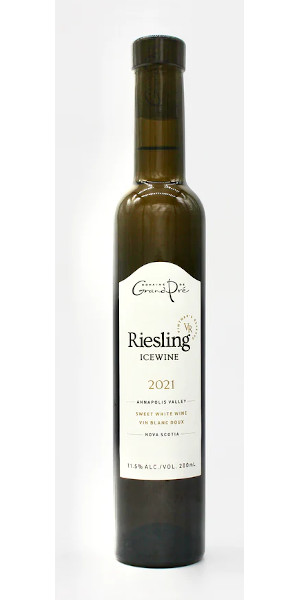 You may also like...