Grand Pre Rose Can (250ml)
Grape

L'Acadie BlancMarechal Foch

Food Pairing

AperitifCharcuterieSeafood

Farming Method

ConventionalMost products with this label come from producers who do their best to avoid any intervention at all but it's possible that some of the aforementioned preventative measures and additions are deemed necessary. Learn More
Domaine de Grand Pré makes polished and elegant Nova Scotian wines. The Domaine is known for its crisp and clean flavour profile and they pride themselves in using only 100 per cent Nova Scotian grown grapes. They grow specialty grapes that were developed for the Nova Scotian climate and landscape and the resulting wines wine awards year after year.
Tasting Notes
This is a fully dry and refreshing blush wine made from two of Nova Scotia's primary varietals: L'Acadie Blanc and Maréchal Foch. The resulting wine is bursting with delightful fruit flavours of candied apple, red currant, strawberry, and melon. The palate gives way to notes of spice and almond with a pleasing crisp finish.
Method
Winemaker's Notes: The crisp nature of this Rosé makes it an ideal candidate to explore with this format. Our hope is that the enhanced portability offered by 250 ml cans can help brighten patio get-togethers on those warm summer days. L'Acadie Blanc and Maréchal Foch integrate well together in this blush wine that is bright with a refreshing acidity, while still round with delicate red berry notes. Taken together, the signature Rosé flavours and this new format leave us with an excellent easy-drinking wine for any occasion.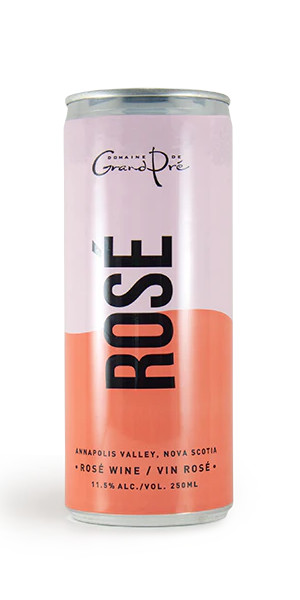 You may also like...