Food Pairing

AperitifCold SaladsSeafood
Domaine de Grand Pré makes polished and elegant Nova Scotian wines. The Domaine is known for its crisp and clean flavour profile and they pride themselves in using only 100 per cent Nova Scotian grown grapes. They grow specialty grapes that were developed for the Nova Scotian climate and landscape and the resulting wines wine awards year after year.
Tasting Notes
This light bodied, dry white wine displays delicate fruit flavours and aromas of green apple, citrus, and pear. It is well balanced with a refreshing acidity that enhances its flavours. The finish is long with notes of exotic fruit.
Seyval is a perfect complement to summer salads with vinaigrettes, white fish and other seafood dishes, grilled vegetables, or simply on its own as an aperitif.
Method
Seyval Blanc is a French American hybrid that is well suited to our cooler maritime climate. In the vineyard it is quite winter hardy, and its early ripening nature allows the grape to take full advantage of our growing season.  This wine is fully dry with zero gram of RS.  
One of the four grape varietals that can be used in the primary blend of a Tidal Bay, on its own, Seyval Blanc is an expression of a true coastal wine through its refreshing minerality and signature crispness.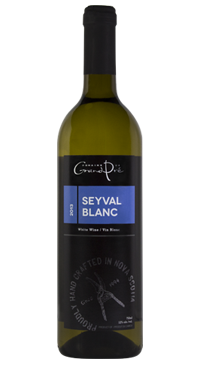 You may also like...