Gray Whale Gin celebrates California and its unique and bountiful botanicals. The six Californian botanicals, juniper, mint, limes, fir tree, almonds, and kombu are sustainably sourced or wildly-foraged along the Pacific Coast— the same coastline as the majestic Gray Whale's migratory journey. Gray Whale Gin gives 1% of profit from sales to ocean conservation efforts with a focus on protecting the gray whale's epic journey.
Tasting Notes
First, the aroma of citrus carries you north, followed by juniper and a subtle hint of cool coastal fir trees. As you move further up the path, fresh mint and the umami flavors of kombu sea kelp are rounded out by a beautiful lasting creamy almond finish. In blind tastings with premium Gin consumers, Gray Whale Gin was preferred over Hendrick's Gin, so if you are looking for a new favorite drop, this will be a great addition to your bar.
Method
Gray Whale Gin is a London Dry style gin that starts out with a six-times distilled, ultra-clean, non-GMO base, which provides the perfect blank canvas to allow the wonderful Californian botanicals to truly shine.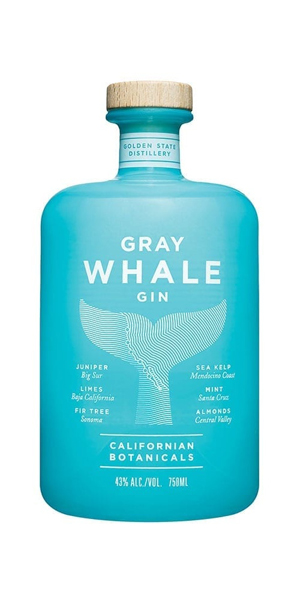 You may also like...