Great Lakes Brewery Thrust! IPA (473ml)
Great Lakes Brewery is independently owned and operated with over 30 years in the craft beer business, making them one of the oldest craft breweries in Ontario. Based in Toronto at 30 Queen Elizabeth Blvd. GLB makes fresh, well-made beer in a variety of styles!
Tasting Notes
THRUST! an IPA pours a hazy yellow in colour with a slight hint of fuzzy peach shining through while producing a pillowy crown, much like the glowing clouds a rocket leaves in its wake. We've heard astronauts would rather this than that other drink as they orbit the planets due to the aromas of grapefruit, plump white grape, fresh mango and strawberry. A creamy soft mouthfeel provides flavours of lychee, kiwi and grape that are joined by some light crackery/biscuit notes. The 6.5% is deceptive – well hidden thanks in part to the juice forward qualities that THRUST! exemplifies with each sniff, each sip. Yes, much better than a glass of Tang – it's outta this atmosphere.
6.5% abv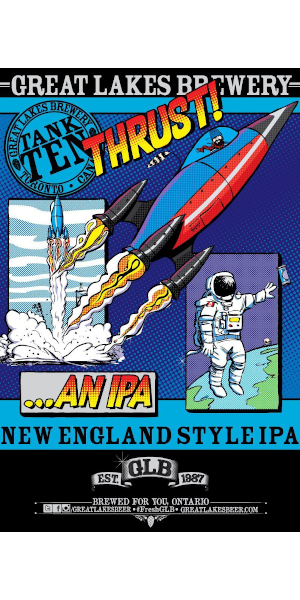 You may also like...