Great Lakes Canuck Pale Ale (473ml)
Beer Style

American Pale Ale
Great Lakes Brewery is independently owned and operated going on 30 years in the craft beer business, making them one of the oldest craft breweries in Ontario. Based in Toronto at 30 Queen Elizabeth Blvd. GLB makes fresh, well-made beer in a variety of styles!
Tasting Notes
The minute you crack your can, aroma of grapefruit, mango and pine hit you in the face; like a beaver slapping his tail on a pristine small body of water in Ontario. Canuck pours a deep gold, bordering on burnt orange that produces a tight snowy white toque. Take one last nose before getting into the liquid, which you'll soon find will be hard to put down. Soft carbonation leads into a sweet honeyish start before it gives way to more grapefruit, tropical citrus, canned peaches and pine. Light to medium body with a very dry finish.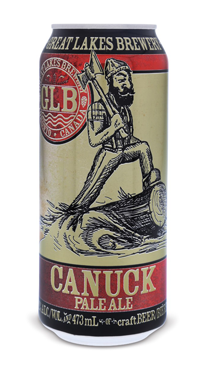 You may also like...