Grimross Hop Blonde (473ml)
Quickly becoming one of the leading craft breweries in New Brunswick, Fredericton's Grimross is all about sourcing the best ingredients.
They strive for authenticity and to be true to their craft, and they do this by sourcing local ingredients whenever possible. Most of the hops used at Grimross are grown right in New Brunswick. Their styles are heavily inspired from the great German and Czech lagers, as well as the more lively Belgian ales.
Tasting Notes
Delicate aromas of lime, citrus zest and tropical fruit, with just a subtle malt backbone. The palette is all about bright and fresh citrus flavours with zippy carbonation and restrained bitterness. Remember, this isn't an IPA or American Pale Ale – there's just a blonde ale under all those aromatic hops, the bitterness is low!

Method
Combining the finest German malts with some of the juiciest American hops, Hop Blonde is a hybrid of classic ingredients and new age techniques. Craft breweries can't just leave a blonde ale alone – they have to add hops, of course! This is a hybrid in that the brewer is fusing two ideas together to make something new, this beer is all about a delicate mouthfeel, with more pronounced hop aromatics.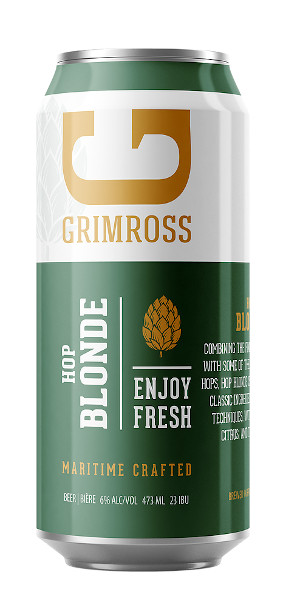 You may also like...