Grimross – Maritime Cream Ale (473ml)
Tasting Notes

CrispLightSmooth
Quickly becoming one of the leading craft breweries in New Brunswick, Fredericton's Grimross is all about sourcing the best ingredients.
They strive for authenticity and to be true to their craft, and they do this by sourcing local ingredients whenever possible. Most of the hops used at Grimross are grown right in New Brunswick. Their styles are heavily inspired from the great German and Czech lagers, as well as the more lively Belgian ales.
Tasting Notes
You can expect Maritime Cream Ale to taste slightly sweet with a low bitterness. Expect honey-like malt flavours that ultimately take a backseat to the overall clean-ness. The aroma should match – sweet, grainy honey malt with moderate herbal notes.
Method
Maritime Cream Ale is a national bronze medal winner at the 2018 Canadian Brewing Awards!
The American cream ale is a mild, pale, light-bodied ale, made using a warm fermentation (top or bottom fermenting yeast) and cold lagering. Despite being called an ale, when being judged in competitions it is acceptable for brewers to use lager yeast.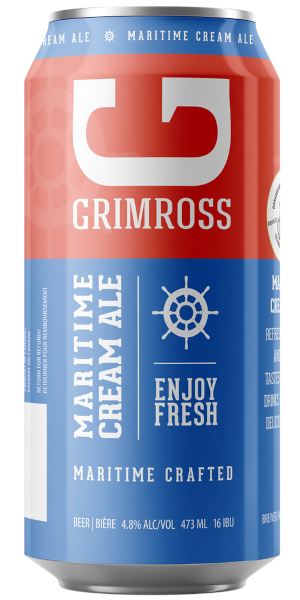 You may also like...
Express Shipping!
For select shipping postal codes, this product may be eligible for Express Delivery! Click here to learn more.