Grimross Praha Bohemian Lager (355ml)
Beer Style

Czech Style Lager
Quickly becoming one of the leading craft breweries in New Brunswick, Fredericton's Grimross is all about sourcing the best ingredients.
They strive for authenticity and to be true to their craft, and they do this by sourcing local ingredients whenever possible. Most of the hops used at Grimross are grown right in New Brunswick. Their styles are heavily inspired from the great German and Czech lagers, as well as the more lively Belgian ales.

Tasting Notes
Pouring clear light straw colour with no particulates, a small to medium amount of thin white foam that collapses, and light lacing. Grainy, cereal, and water cracker, grassy with hay/straw, and floral and herbal hop notes. Lightly sweet, no sourness, mildly bitter, lightly mineral, gently sweet linger. Prominent hop and malt flavours in the freshest examples. Light body, no astringency, not spicy, medium carbonation, and slightly mouthwatering.
Method
Inspired from the great golden lagers of the Czech republic, notably Pilsners. Grimross brings you the Praha Lager, of the same vein of a Pilsner, but with a lighter malt profile, lower alcohol, and a little less bitter. The best examples are clean and brilliant, prominent pilsner malt flavour and aroma balanced by noble floral/herbal/grassy hop character. Light bodied with a touch of mineral character. Should finish snappy and dry, with clean medium hop bitterness and refreshing carbonation.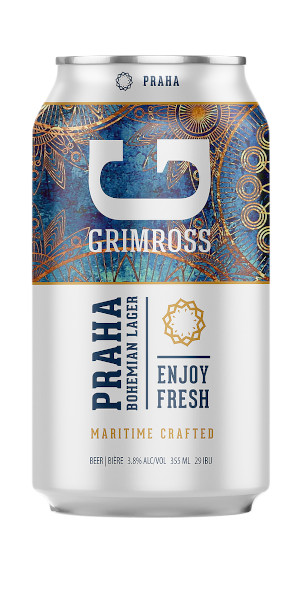 You may also like...