Grosjean Pinot Noir Vigne Tzeriat (750ml)
Farming Method

BiodynamicAll of our products that are tagged with the term Biodynamic are either biodynamic certified or biodynamic practicing. Learn More

Food Pairing

CharcuterieMushroom dishesPasta Dishes
The Grosjean family traces its roots back to the village of Fornet, in the high mountain passes of the Valle d'Aosta where they raised cattle. During the summer months, the family cultivated grapes and chestnuts on the slopes at lower altitude, stocking up on wine to supply themselves over the long winters. In 1969, Dauphin Grosjean, the father of the five sons that now collaborate to produce the wines of this estate, was encouraged to present his wine at the local "wine expo" and the exceptional quality of his work was recognized. The estate has grown to seven hectares of vineyards. Sustainable farming techniques have been in place since 1975: only organic fertilizers are applied and no pesticides or herbicides are used. Natural yeasts are utilized for fermentation. Single vineyard Pinot Noir grapes are de-stemmed before pressing and the must is fermented in stainless steel tanks. During fermentation, the tanks see two daily punchdowns. Following the completion of fermentation, the wine is then aged in French oak barrels for eight months, then the wine is bottled and aged for an additional 18 months before release.
Tasting Notes
Ripe, red fruit and graphite with an alpine freshness and purity of floral and pine. Possibly the finest Pinot Noir bottled in Italy. Production is limited to 200 cases, so this is truly a rare opportunity to taste such a wine.
"Good full ruby-red. The expressive, complex nose combines raspberry, black cherry, smoky oak and underbrush, plus hints of truffle and dried flowers. Plenty of extract and flavor intensity for its color, offering a whiff of mineral to the savoury berry, earth and spice flavors. A soil-driven midweight Pinot Noir with a seamless texture and excellent focus and close; herbal notes pick up on the back end. Spends 15-18 months in used barriques." -90 points, Ian d'Agata for Vinous
Method
Pinot Noir is cultivated in the most renowned areas of the world and has been present in the northern Italian region of Valle d'Aosta for for many centuries.  The modern version was introduced in the 1970s by the Joseph Vaudan, an priest who is responsible for the commercialization of the wines of Valle D'Aosta.  The Grosjean winery has been producing Pinot Noir for 50 years, choosing to plant the variety on steep sloping, sun exposed terrains so that we bring out the best characteristics of this variety.  
This wine is from the single 1 Ha high altitude Vigna Tzeriat, the soil is shallow, sandy and stony and the vines are well established, planted between 1968 and 2012 and cultivated organically.  The grapes were harvested in early October, 30 % destemmed, 70% whole cluster with 12 days of maceration on the skins and regular punch-down operations at a controlled temperature of 28/30°.  The wine then ages in 500l tonneau for 24 months followed by 12 months in the bottle.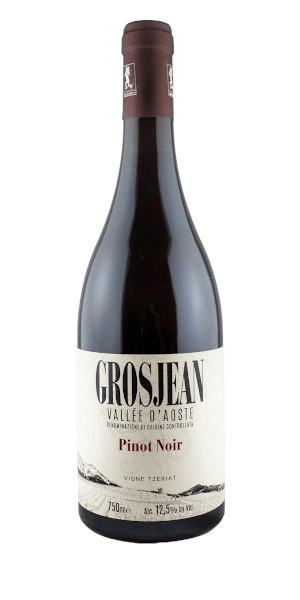 You may also like...