Guillemot Savigny Aux Gravains (750ml)
Sub-Region

Savigny-les-Beaunes

Food Pairing

DuckGameMushroom dishes
Eight generations of Guillemots have worked the land in the Savigny-lès-Beaune appellation. Their wines are known for their classic Burgundian finesse, elegance and balance combined with a certain rusticity that is typical of Savigny. Domaine Pierre Guillemot makes traditional style Burgundies that appeal to old school Burgundy lovers
"Aux Gravains" is a premiere cru appellation in Savigny-Les-Beaune, Burgundy. The grapes grow on gravel alluvial soil. Fermentation lasts for 15 to 16 days and the wine is fermented in wooden cuves with regular punchdowns 2-3 times a day. The wine is aged in barrel (10%) new for 18 months and then aged in bottle before release.
Tasting Notes
Ripe raspberry and warm earth. Rich and juicy with fine acidity, fine grained tannins and chalky minerality.
Our Thoughts
In the center of the small town of Savigny-lès-Beaune there is a tiny courtyard with a little door that leads to a spiral staircase that will take you into the cellars of Guillemot. 

Guillemot's style of Pinot Noir are delicate, fine and serious all at the same time. The Gravins is named for the gravelly soil in which it grows and the structure it maintains which will allow it to age gracefully.  This wine is showing beautiful cherry, hints of fresh forrest floor and a delicate meaty nose. If you have the patience a couple years in the cellar will help the tannins to soften but if like me you can't wait then a little decant and a big glass for smelling and you will be whisked away to that small courtyard and the wonders that await these wines of elegance and finesse.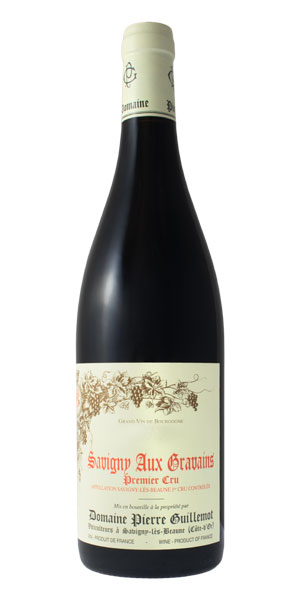 You may also like...