Half Cocked – Perfectly Unclear New England IPA (355ml)
Beer Style

New England IPALeans heavily on late, dry hopping techniques to deliver a bursting juicy, tropical hop experience. Learn More

Tasting Notes

BitterSmoothTropical
Located in North Grant, Nova Scotia, Half Cocked Brewing Co. was built on their family's former chicken farm. Just a short drive from the heart of Antigonish, they offer a large taproom and outdoor tasting space with an ever evolving beer line-up. Making great beer has been their focus from day one with an emphasis on bold and unique flavours using fresh, quality ingredients.
Tasting Notes
Finally you can have a great New England IPA that's packed with flavour but packaged in a small can!
Perfectly Unclear is loaded with aromas and flavours of peaches, nectarines, herbal dank notes, and peeled citrus. The palate is juicy and smooth with firm but balanced bitterness that leads into a fruity, refreshing finish. A classic NEIPA with a little extra West Coast "dank" mixed in.
Method
Emphasising hop aroma and flavour without bracing bitterness, the New England IPA  leans heavily on late and dry hopping techniques to deliver a bursting juicy, tropical hop experience. The skillful balance of technique and ingredient selection, often including the addition of wheat or oats, lends an alluring haze to this popular take on the American IPA.
Perfectly Unclear maximizes the potential of all the traditional brewing ingredients. The perfect blend of grains brings body, haziness and color. Water chemistry gives the beer a smooth, silky drinking experience. Hop additions are ample. Large late kettle additions along with heavy dry-hop charges bring big juicy tropical flavors but leave no bitterness. Finally the perfect yeast strain interacts with the hops to amplify those juicy, fruity flavors while leaving a touch of sweetness to make this NEIPA an easy enjoyable drinker.
Our Thoughts
One of Nova Scotia's newer breweries- relatively speaking, and focusing on small-batch brewing while using the highest quality ingredients. Dank and tropical peach juice with bitter citrus undertones. As the name implies it's a hazy one; for me, it's the perfect level of juiciness for an East Coast IPA and it's a pleasure from start to finish.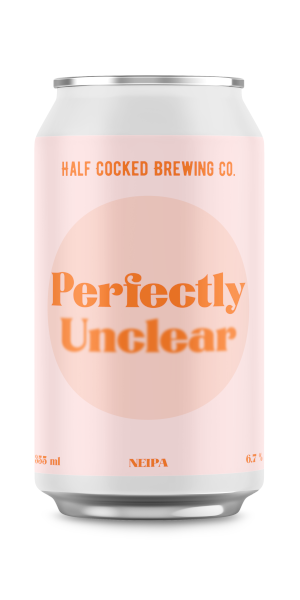 You may also like...