Half Cocked – Pip American Lager (355ml)
Beer Style

Pale LagerBrewed with only pale malt for delicate malt flavours, and subtly balanced with European hop varieties that offer herbal, floral, and some spice character. Learn More

Tasting Notes

BalancedcleanCrisp
Located in North Grant, Nova Scotia, Half Cocked Brewing Co. was built on their family's former chicken farm. Just a short drive from the heart of Antigonish, they offer a large taproom and outdoor tasting space with an ever evolving beer line-up. Making great beer has been their focus from day one with an emphasis on bold and unique flavours using fresh, quality ingredients.
Tasting Notes
PIP pours light golden with subtle herbal aromas, and just a little touch of citrus American hop character peeking out. The palate is light and delicate but not lacking flavour, with notes of freshly baked bread and graham crackers that lead into a refreshing finish that ends dry. This is a real contender for our top 5 list of "elbow benders" for 2023!
Method
Pale Lager is a sub-style of lager that has changed over the years from its humble German roots to become the most popular style of beer in the world. Brewed with only pale malt for delicate malt flavours, and subtly balanced with European hop varieties that offer herbal, floral, and some spice character.
PIP is a Pseudo American Lager, meaning it tastes pretty similar to the traditional "big name beers" but is brewed with a twist. A special ancient yeast allows us to brew this beer much quicker than a traditional lager.
Our Thoughts
Holy crushable.

Often times when you get a lager that's as easy drinking as this, the flavour is a little more subtle; that's not the case here. Citrus, baked bread, spice, and honey; what else can you ask for? Pip has everything to please the "regular beer" drinkers as well as the beer nerds.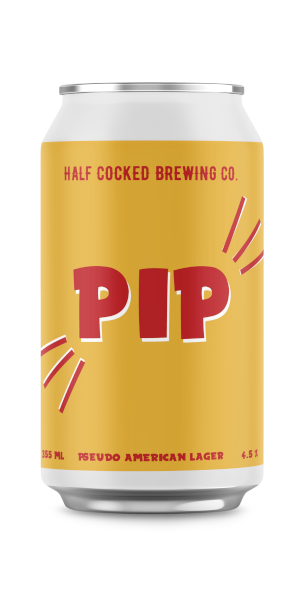 You may also like...
Express Shipping!
For select shipping postal codes, this product may be eligible for Express Delivery! Click here to learn more.