Half Cut Charlie Horse Kolsch (473ml)
Long time Picaroons employee Matt Corey wanted to start his own brewery to brew styles he loved and to add his own twist.
His brewery, Half Cut is brewed by contract out of a few different New Brunswick breweries, Petit Sault, Picaroons, and Grimross. Matt is able to travel around the province brewing his beer at different locations not having to worry about all the overhead and extra cost that comes with a brick and mortar brewery.
Tasting Notes
Very clean, crisp, and light. Charlie Horse is a balanced beer that provides a refreshing finish. Pale gold colour and completely bright. A classic German style even domestic drinkers will appreciate.
Method
Kolsch is the famous style from Cologne, Germany. When the Pilsner wave took Europe by storm it made a lot of small towns change their brewing technique to mimic the new golden beers coming out. So brewers in Cologne brewed a golden ale, and then lagered it at cold temperatures for longer periods of time to crate a new style known as Kolsch. Slightly richer than a lager, and with subtle fruit components, but with a much more crisp and refreshing mouthfeel.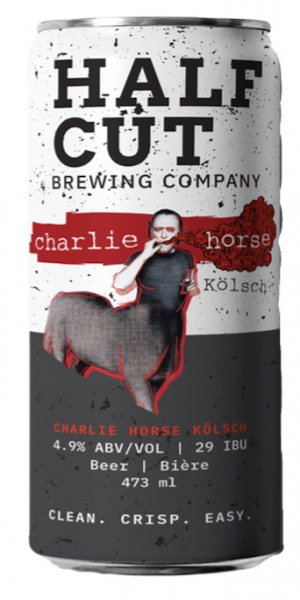 You may also like...