Hidden Bench Estate Series Pinot Noir (750ml)
Sub-Region

Beamsville Bench
Hidden Bench is a critically acclaimed Canadian winery nestled in the heart of the picturesque Beamsville Bench. They craft premium wines using only certified organic estate fruit with sustainable, non-interventionist winemaking techniques, that have a sense of place and time. Non-interventionist, quality-focused and terroir-driven, Hidden Bench has established an ongoing reputation for consistent excellence both domestically and internationally.
Tasting Notes
The Hidden Bench Estate Series Pinot Noir has structure and finesse; rewarding those who wish to age the wine, as well as those who choose to drink it now.
Pale brilliant ruby in colour, this vintage displays a rich and fruit forward nose of ripe black and red cherries, red currant, violet florals with beetroot, earthy tones highlighted by a pleasant, lifted fresh herbal character. The ripe character of the fruit leads to a surprising and refreshing dryness and acidity on the palate, and flavours that further elaborate on accords found on the nose. Tart and ripe red fruit, fresh savoury herbs, all-spice, forest floor and brown mushroom notes intermingle on the palate with a lingering finish filed with surprising depth and impact. This vintage is calling for pairings of classic steak tartare with cornichon and sourdough toast, and a creamy mushroom tarte with savoury herbs.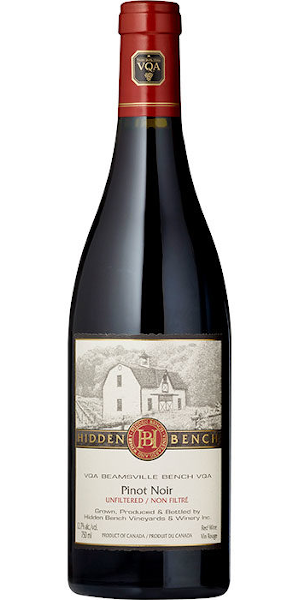 You may also like...