Indie Alehouse Wet Hop Kveik Kolsch (500ml)
Indie Ale House in Toronto's Junction neighborhood has been established since 2012. Since that time they've gone on to assert themselves as one of the city's best brewpubs, and even in the last couple years expanding to a full sized brewery. Their range of styles goes from refreshing lagers, all the way to a full-fledged barrel program. And if you think that's impressive, wait till you try their fried chicken.
Tasting Notes
Don't let the wet-hopped aspect fool you, this is very much a Kolsch. Fresh, hop driven aromas of citrus fruits and herbal tones that are overtaken by a firm malt backbone in this modern take on a Kolsch. Crisp, refreshing and lager-y is the name of the game here. The fresh herbal hop character plays a side part to the rich malt profile. We're big fans!
5.0% abv
Method
A light ale fermented at cooler temperatures with Kveik yeast, and wet hopped with Cascade and Columbus hops. Wet hopping is different from dry hopping. With dry hopping, the hops that are used are dried and pelletized, and added at later stages in the brewing process. With wet hopping, the hops are kept fresh and in their whole form – this is usually only done around harvest time when the hops are fresh.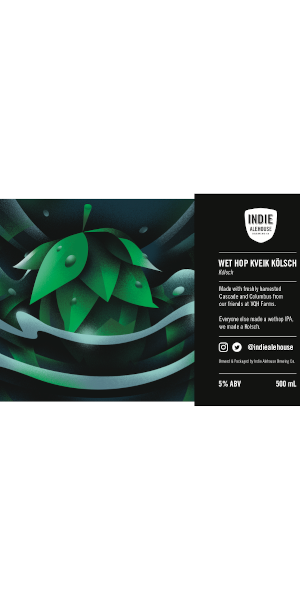 You may also like...