Indie Alehouse Zombie Apocalypse Imperial Stout (500ml)
Beer Style

Imperial Stout
Indie Ale House in Toronto's Junction neighborhood has been established since 2012. Since that time they've gone on to assert themselves as one of the city's best brewpubs, and even in the last couple years expanding to a full sized brewery. Their range of styles goes from refreshing lagers, all the way to a full-fledged barrel program. And if you think that's impressive, wait till you try their fried chicken.
Tasting Notes
Rich, bold, and dark aromas jump out of the glass. Expect notes of espresso, dark chocolate, licorice, dark fruits, and deeply roasted malts. The palate is brooding with robust flavour that leads into a silky smooth mouthfeel, with noticeable alcohol warmth, and just enough sweetness to make this one a real decadent treat.
10 % abv
Method
Only brewed once a year, the Zombie Apocalypse is one of Indie Ale Houses biggest beers they make. Featuring a hefty malt bill of different roasted malts to create a complex flavour spectrum. They even do a few barrel aged versions, which we'll try to get next year.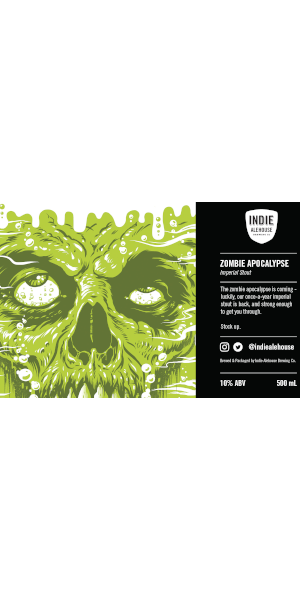 You may also like...