Isastegi – Euskal Sagardoa Sidra (750ml)
Tasting Notes

ComplexEarthyrefreshing
If the Basque Country has any distinguishing drink, it's cider. The apple orchards adapt well to the rugged terrain and the climate, and cider used to be made in many farmhouses. It is possible to trace the path of Basque cider until the Middle Ages, when Basque whaling boats sailed to Newfoundland.
Isastegi produces a refreshing, dry natural cider from the verdant mountains of the Basque Country, high above the Bay of Biscay along Spain's rugged and green northern coast. Innovation meets 500 years of tradition, making the authentic San Sebastián cider experience portable.
Tasting Notes
Basque cider is bone-dry, acidic, and funky! So if you're a fan kombucha, natural wine, or sour and wild ales, then you need to try this. Basque Sagardo is traditionally served cold, poured into a wide-mouth tumbler from an arm's length a little bit at a time to give the cider its signature creamy, effervescent mousse.
Food pairing ability know no bounds with this style of cider. Try it with tapas (or Basque pintxos), chorizo, fish tacos, soft or hard cheeses, Spanish tortilla, or anything else you can think of!
Method
A funky, natural Basque cider made using traditional methods without the addition of sugar or carbonic gas so it's dry and barely fizzy. After a long, slow fermentation in kupelas (large, oak barrels) that lasts until the following spring, the cider is bottled unfiltered giving it a distinct bitter note and slight cloudiness.
Each lot is fermented separately in stainless steel tanks with native yeasts. After fermentation, each component is tasted for quality, and the lots are blended together in kupelas (old, large oak cider barrels) for several months. Isastegi cider is bottled fresh from barrel without fining or filtration before each shipment.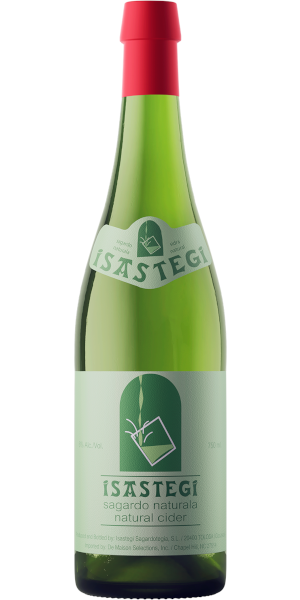 You may also like...