Jean Foillard Morgon Cote du Py Beaujolais (750ml)
Food Pairing

CharcuteriePorkWarm Vegetable Dishes
Jean and Agnès Foillard took over his father's domaine in 1980. Most of their vineyards are planted on the Côte du Py, the famed slope outside the town of Villié-Morgon and the pride of Morgon. These granite and schist soils sit on an alluvial fan at the highest point above the town and impart great complexity. Jean follows the teachings of Jules Chauvet, a traditionalist winemaker. Along with Marcel Lapierre, Jean-Paul Thévenet, and Guy Breton this Gang of Four has returned to the old practices of viticulture and vinification: starting with old vines, never using synthetic herbicides or pesticides, harvesting late, rigorously sorting to remove all but the healthiest grapes, adding minimal doses of sulfur dioxide or none at all, and refusing both chaptalization and filtration.
Tasting Notes
Black cherry and plum with a pleasing rustic quality. Lots of structure, spicy notes and minerality on the concentrated palate.
Method
The Morgon Cote du Py is sourced from 10-90 year old vines growing on schist, granite and manganese soil. Traditional, whole cluster fermentation lasts from 3-4 weeks and the wine is aged for 6-9 months in used oak barrels.
Our Thoughts
Of all the disciples of Jules Chauvet, Jean Foillard is the most likely to succeed in the practice of using very little SO2, without having his wines act capriciously at the slightest change in atmospheric pressure. His wines possess magnificent body and give aromas of a unique purity and grace. -La Revue de France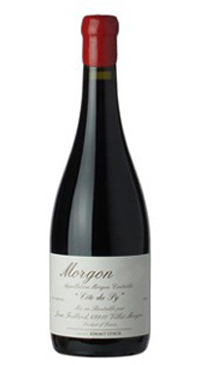 You may also like...