Joseph Phelps Insignia (750ml)
Food Pairing

GameRed Meat
Beginning in 1974 was a period of unparalleled activity, creativity, ingenuity, entrepreneurship and risk-taking that put Joe Phelps on the map of top Napa Valley wine producers. 1974 was a great year for Cabernet Sauvignon in Napa Valley and the 1974 Insignia was 94% Cabernet from the Stags Leap District. The following year Merlot dominated the blend, and in 1976, it returned to Cabernet, this time from the Eisele Vineyard. It was becoming increasingly clear that red Bordeaux varieties – particularly Cabernet Sauvignon – were ideally suited to Napa Valley and would consistently yield the best wines of the vintage. From 1977 on, Cabernet Sauvignon was never less than 50% of the Insignia blend and gradually became the dominant varietal. Joe's vision evolved: Insignia would always be a proprietary red Bordeaux-style blend.
"The story of Insignia is a reflection of my grandfather's character. He was a pioneer and an original who didn't want to do what had already been done. He saw an opportunity to create something very special. With Insignia, he created California's first proprietary red Bordeaux-style blend." – Elizabeth Neuman, Joe's Granddaughter
Tasting Notes
Pronounced dark currant, blackberry and cherry preserves minx with notes of alder, incense and black tea. The palate is rich with ripe and velvety tannins. Incredible concentration and texture with a balance of fruit, savoury notes and tobacco that carry onto the long finish.
Method
Joe Phelps left the family an incredible gift: estate vineyards in some of Napa Valley's finest appellations and growing regions. Because of this, since 2004, Insignia has been 100% estate grown, a blend of the best wine lots from our vineyards in St. Helena, Rutherford, Oakville, the Stags Leap District, the Oak Knoll District and South Napa Valley. Estate vineyards ensure quality control of the grapes and provides the winemaker with profound resources when it comes to creating Insignia each year. Produced without regard to quantity and with only one goal in mind – to make the best wine possible each vintage – Insignia continues the pioneering legacy of Joe Phelps.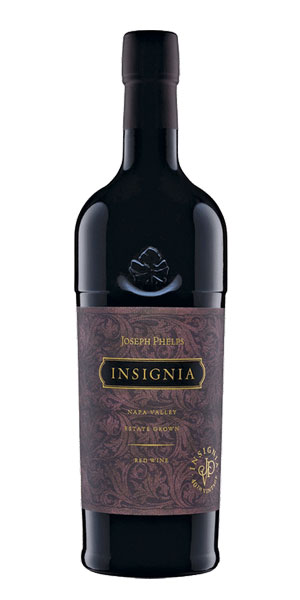 You may also like...