Jost Tidal Bay Can (250ml)
Food Pairing

AperitifCold SaladsSeafood

Farming Method

ConventionalMost products with this label come from producers who do their best to avoid any intervention at all but it's possible that some of the aforementioned preventative measures and additions are deemed necessary. Learn More
Jost Vineyards is situated on over 100 acres on Nova Scotia's Sunrise Trail. It is the largest and longest operating winery in the Atlantic region, and the Jost family can be credited to pioneering the Nova Scotia wine industry. Jost has numerous contract growers across the province that supply the winery with the quality grapes for the production of their wines. Though ownership has changed in recent years, the Jost legacy lives on.
Tasting Notes
Aromatics of apple and pear on the nose with hints of lemon, peach and floral notes. Refreshing yet mouth-filling on the palate, this wine displays an ideal balance between acidity and sweetness. The mid-palate is soft and delivers distinct notes of peach and apple with a delicate expression of mineraility. The finish is soft and balanced.
Method
To earn the Tidal Bay designation, all wines must follow a strict set of technical standards that are enforced throughout the winemaking process- from growing to bottling and more.  These standards were created by a committee of winemakers, sommeliers and wine experts. 
The 2021 Jost Tidal Bay is a composed of 53% L'Acadie Blanc, 14% GM318, 12% Minnesota Muscat, 10% Cayuga, 8% New York Muscat and 2% Riesling.  13 g/L RS.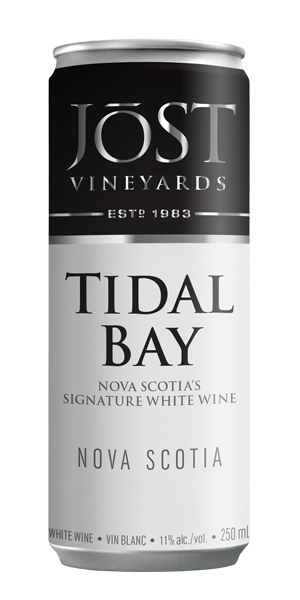 You may also like...