Kilkerran 8 Year Old Cask Strength (700ml)
Tasting Notes

Baking SpiceCaramelRaisin
Glengyle distillery was founded by William Mitchell in 1872, and stayed in the family until 1919. After changing hands a couple times and being mothballed (a term referring to a distillery being closed while still preserving equipment and machinery for possible future use), the distillery was sold to J&A Mitchell in 2000. Four years later, Glengyle reopened and the first bottling of Kilkerran was released in 2009; a 5 year old expression titled "Work-in-Progress."
The name Kilkerran comes from the gaelic word Cille Chiarain, which was the original name for Campbeltown- the scenic setting where Kilkerran proudly makes their distillate. In 2016, the annual release of Kilkerran's 12 year old began which features a 12 year old whisky matured in 70% ex-Bourbon casks and 30% ex-Sherry casks. To round out their core range, they also produce an 8 year old cask strength and more recently, a 16 year old expression.
Tasting Notes
From the distillery: On the nose, peat aroma from the lightly peated barley is apparent from the off and some of the green apples which are becoming a feature of Kilkerran are also present. This whisky is like a favourite dessert, rhubarb crumble, stewed rhubarb, vanilla and all butter shortbread. On the palate, there's an earthiness and saltiness, exactly what you want to taste in a Campbeltown dram. This is combined with icing sugar and puff candy which gives a sweetness to the whisky, along with milk chocolate and walnut flavours. On the finish, the peat remains, along with a sootiness, pencil shavings and a liquorice influenced maltiness.
Method
All whisky produced at the Glengyle distillery starts with the locally sourced barley. From there, its malted at the nearby Springbank distillery, at then milled back at Glengyle. A 7-8 hour full mash cycle runs, and then its transferred to washbacks for the purpose of fermentation. Traditional Scottish double distillation occurs in copper stills; the first spirit (or low wine) is made at 21-23% ABV and that's distilled a second time with a finished product of 68% ABV. After diluting the spirit down to 63.5% ABV with Crosshill loch water, the desired casks are filled and matured until it's time to bottle.
Our Thoughts
Nose: Smells like you're making homemade caramel but you burnt the edges a bit; dark chocolate shavings, raisin, bruised plum, fig, and prune.
Palate: Very rich and full-bodied; baking spice, stewed fruits, and lots of wood come to mind. Woo! Definitely cask strength! This will put some hair on your chest, as they say. Bring this one out to impress your Scotch-loving friends.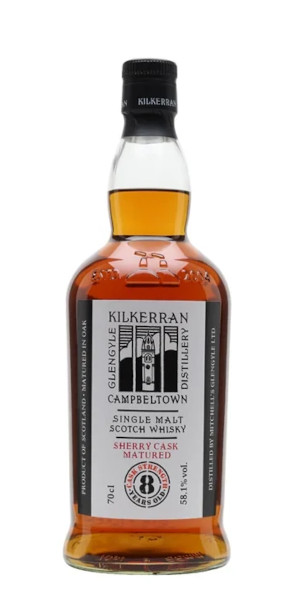 You may also like...