Food Pairing

AperitifCold SaladsSushi

Sub-Region

Neusiedl am See
The Koppitsch family has been making natural wine for more than 500 years. Alex took over the family estate in 2011 and today he and his wife Maria continue in this tradition of producing pure and natural artisan wines by following Rudolf Steiner's biodynamic principles and making every effort to provide the vineyards with what they need. They take a holistic approach to farming and winemaking. Alex does everything by himself, with much help from his dad – Opa Leo. Tending to 15 acres of vineyard land is a lot of work! Alex is always out in the vineyards and Maria takes care of communication. Some day their boys, Jakob, Pauli and Alois will continue the Koppitsch wine legacy.
Tasting Notes
Light and refreshing rosé made from a fun blend of red grape varieties resulting in red berry aromas and flavours, lots of fruit with an uplifting touch of fresh herbs.
Method
The Rosza falls under the "Fun Times" range of wines in the Koppitsch wine portfolio. A blend of Zweigelt 40%, Blaufränkisch 40%,  St Laurent 10%, Pinot Noir 5%, Syrah 5%.  After harvest, the grapes are processed in the backyard. Whole bunches go straight into a screw press, no additives, the juice goes strait into fiberglass and stainless steel tanks.  Natural fermentation with no temperature control.  All 5 components of ROSZA were mostly co-fermented and matured on gross lees for 6 months without any additives, without fining and without filtration.
At bottling a tiny amount of sulfur, 15mg, is added.  Very dry, 10.7% alcohol.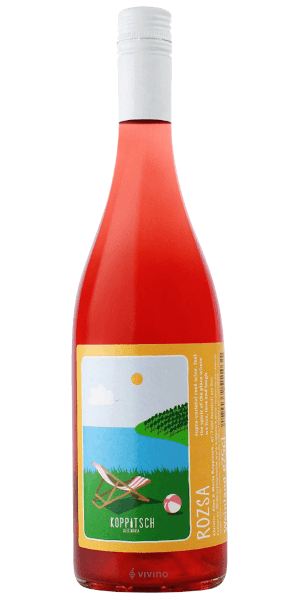 You may also like...