La Stoppa Trebbiolo (750ml)
Food Pairing

CharcuterieCheeseDuck
The La Stoppa estate comprises 32 hectares of vines along with just as much forested area. The property's viticultural origins date back to the late 19th century when its then owner planted it to Bordeaux varieties. In the early 1970s the Pantaleoni family purchased the property. Elena Pantaleoni joined the family work in the vineyards, and winery full time in 1991 and is the present day owner. In the mid 1990s when the push to plant international grapes was strong, Elena made the decision to pull out the non-native varietals and replaced them with local grapes like Barbera, Bonarda and Malvasia. The last of the Bordeaux varietals were all replaced in 2005 and today La Stoppa focuses solely on indigenous Emilian grapes that are suited to their terroir.
Tasting Notes
Pronounced aromas that range from ripe field berries and Morello cherries to earthy forest floor and barnyard notes. There is a touch a volatility and some Brett that certainly make this a polarizing red wine. Those who love naturally made wines that are alive, expressive and a bit wild will be enthralled. The palate is medium to full bodied with gobs of juicy dark fruit balanced by high acidity and well rounded easy tannins. The wine's ripe dark fruit, vivid acidity, rustic animal farm notes bring a umami-like quality to the whole that culminates in a slight sweetness on the finish making this a very unique and memorable wine for those looking for a new taste experience. Enjoy with charcuterie, spicy sausages, duck, cheeses.
Method
Trebbiolo is a blend of 60% Barbera and 40% Bonarda (also known as Croatina.) It is made from a selection of the more productive vines on the estate, lying lower toward the valley floor and producing bigger berries.  The soils are of heavy, silty, iron-rich clay. The vines are farmed organically and harvested by hand. The grapes are destemmed, gently crushed and fermented with native yeasts in stainless steel and concrete tanks. Maceration with the skins lasts around 20 days. The wine is aged in tank and does not go through malolactic fermentation. This is the only La Stoppa red to see a tiny addition of sulfur and a light filtration at bottling.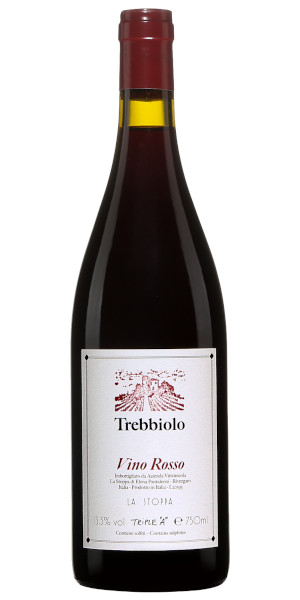 You may also like...