La Stoppa Vigna del Volta (750ml)
Food Pairing

CheeseFoie GrasFruit based desserts

Grape

Malvasia di Candia Aromatica
The La Stoppa estate comprises 32 hectares of vines along with just as much forested area. The property's viticultural origins date back to the late 19th century when its then owner planted it to Bordeaux varieties. In the early 1970s the Pantaleoni family purchased the property. Elena Pantaleoni joined her father in his work in the vineyards and winery full time in 1991 and is the present day owner. In the mid 1990s when the push to plant international grapes was strong, Elena made the decision to pull out the non-native varietals and replaced them with local grapes like Barbera, Bonarda and Malvasia. The last of the Bordeaux varietals were all replaced in 2005 and today La Stoppa focuses solely on indigenous Emilian grapes that are suited to their terroir.
Tasting Notes
Vibrant gold in the glass with pronounced notes of dried apricots, flowers and spice. This is Malvasia di Candia Aromtica at its best, a sweet unctuous passito that balances concentrated fruit with freshness and florality. It has a wonderful texture and weight on the palate and would be wonderful paired with a fruit based dessert or sipped alongside a cheese plate at the end of a meal.
Method
This wine takes its name from the vineyard, named after Signore Volta, the sharecropper who has cultivated this land for years.  The vineyard farmed according to organic grape growing principles; it is not fertilized nor are pesticides.  Malvasia di Candia Aromatica grapes are picked and dried in the sun, the process of "appassimento".  The dried grapes are pressed and a spontaneous fermentation happens thanks to yeasts naturally present on the berries, the wine rests in used French oak barriques before bottling.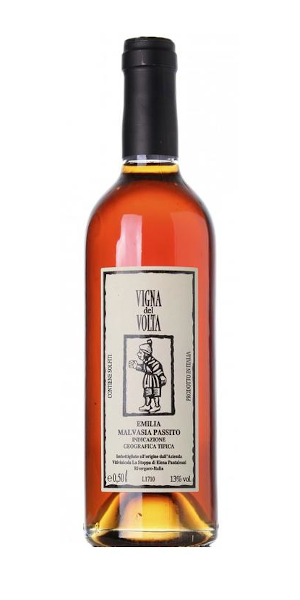 You may also like...