La Versa Testarossa DOCG (750ml)
Food Pairing

AppetizersProsciuttoRisotto

Sub-Region

Oltrepo Pavese
La Versa is located in Northern Italy's Oltrepò Pavese region, in the province of Pavia, Lombardia, south of the river Po. Oltrepò is a huge stretch of rolling hills, carved out by four valleys, whose peaks are dominated by living relics such as castles, towers and fortresses. With its 13,500 hectares of vineyards, this region has a noble past where grapevines have always been part of the landscape. A key grape of the region is Pinot Nero (Pinot Noir) which has adapted well to this area's soil and climate and is used to produce characterful reds and elegant refined traditional method sparkling wines produced by winemaker Riccardo Cotarella.
In over one hundred years of production, La Versa has remained true to the original idea of its founder Cesare Gustavo Faravelli who, together with the first 22 shareholders, decided on 21 May 1905 to make top-quality wines able to embody the characteristics of the best grapes in his home region. This cooperative winery has been focused on respect for the territory, producing quality grapes and wine from its inception. The company has steadily grown over the years to include more shareholders and farmers always focused on quality. Today, La Versa is now a well-known brand due to its sparkling wines which they began producing in the 1930s. In fact, it was their Gran Spumante Brut produced in 1935 that was the first trational method Italian sparkling wine.
In the 1950s Duke Antonio Giuseppe Denari joined the board of directors and later became the president of the company, it was udner his direction that "Brut Testarossa" was released onto the market. This has since become one of the most popular and award winning wines of the company. The name "testarossa" is a reference to the red capsule on the bottle. The winery has been committed to supporting culture by sponsoring numerous Italian theatres and has also sponsored the the famous Giro d'Italia bike race.
Tasting Notes
Creamy white mousse, with a thin, continuous, persistent bead. Bright straw yellow colour, with a very distinct aroma and a fragrance of currant jam, toasted hazelnut and bay leaf. A soft yet fresh and lively flavour, very well-balanced, with a pleasant finish of small ripe fruits that really lingers in the mouth.
Method
Testarossa is a captivating sparkling wine that has been produced by La Versa since 1989.  This traditional method sparkling wine is made from Pinot Nero grapes from the Val Versa valley.  Testarossa remains in contact with its own fermentation yeasts for no less than 36 months after harvest, before disgorging, followed by another month in the bottle, before packaging. This formula has always been used for the finest La Versa cuvée.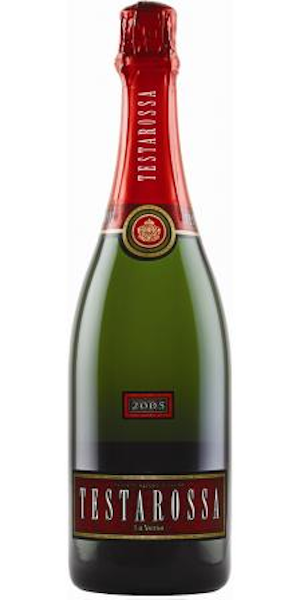 You may also like...