Lagabiere – Ta Siboire Triple Dry Hop DIPA (473ml)
Sub-Region

Saint-Jean-sur-Richelieu
Since their very first brews in the family garage, the Laganière brothers have always had the intention to bring their products, of which they are proud, to as many people as possible. This is why in November 2012, the small Lagabière Brewpub was born. Located in the heart of Old Saint-Jean, in Saint-Jean-sur-Richelieu, Lagabière quickly became a must in the region for craft beer enthusiasts.
In 2016, the brothers had the idea of opening a second brewery, this time in the industrial sector. The idea was to produce bottled beer for distribution on the Quebec market. The success of Lagabière products, now offered in cans, made the brewery grow in record time and it continues to expand to this day. Bishop's Cellar is very excited to welcome them to Nova Scotia!
Tasting Notes
Collaboration with Siboire microbrasserie
Intense hop-driven aromas of stone fruit, tropical and citrus fruits mingle with herbal dank notes that lead into a rich palate of similar flavours. At 9% abv, this beer could easily taste too heavy and boozy if it weren't for all of that ripe fruity hoppy flavour to balance things out.

9.0% abv
Method
Being both pioneers in the use of CryoPop hops from Yakima Chief Hops, these two breweries have put all their knowledge at the service of the creation of this Triple Dry Hopped, Double New England IPA, highlighting the fruity and explosive flavors of this blend of Cryo hops. You will certainly have as much fun tasting it as they had creating it!
What ARE Cryo Hops? Well, hops cones are frozen with liquid nitrogen, then the lupulin glands are separated from the now nearly completely debittered leaf. The glands that make up Cryo Hops® are the concentrated bittering and oil containing portion of the hops. They are extremely high alpha acid, but using them just for bittering is kind of a waste. The real beauty of them is the intense aroma and flavor they bring to your beer. Without the vegetative material that traditional hop cones and pellets contain, Cryo Hops sucks up less of your precious beer and doesn't give you the astringency you can get from traditional cone or pellet hops.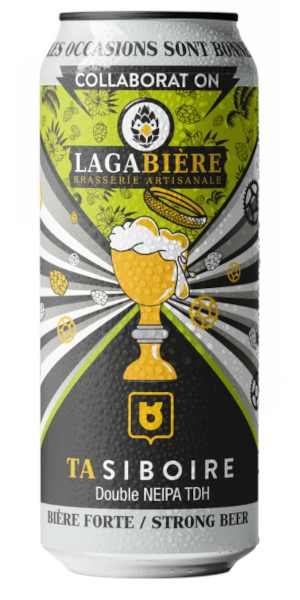 You may also like...