Lake City – Gingersnap Cider (473ml)
Tasting Notes

Baking SpiceCrispDry
Dartmouth is the foundation upon which Lake City Cider is built. They're proud Darksiders – they've grown here, played here, lived here and loved here and they wouldn't have it any other way. They've seen how Dartmouth has changed and they've changed with it. And they're honoured to make quality local cider right on Portland Street with as much character and joy as the city we love.
Tasting Notes
Inspired by the classic winter cookie, The Gingersnap. This Cider packs a little spice, a little sweetness and a little snap on the finish. Ginger is the star greeting you upfront on the nose, offering a hint of spice on the palate and leaving you refreshed on the finish.
Method
A selection of Annapolis valley apples cold fermented and blended with freshly pressed ginger root and a touch of molasses for balance. Naturally Gluten Free.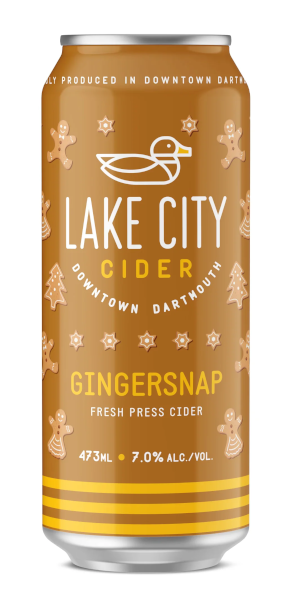 You may also like...
Express Shipping!
For select shipping postal codes, this product may be eligible for Express Delivery! Click here to learn more.