Le Albare Vigna Vecia Soave Classico (750ml)
Farming Method

ConventionalMost products with this label come from producers who do their best to avoid any intervention at all but it's possible that some of the aforementioned preventative measures and additions are deemed necessary. Learn More

Food Pairing

FishPork loinChicken
The Posenato family has 1.5 hectares of Garganega vines planted in 1948. The Le Albare estate is in its 4th generation of production under the direction of Stefano Posenato. This is a very traditional Italian winemaking estate located in the heart of Soave Classico. Stefano only grows Garganega and he trains the vines using the traditonal 'Pergola Veronese' system, where the the vines grow first upwards and then outwards to form a canopy. This ensures that the bunches of mature grapes are kept high enough above the ground to escape the low mists that can encourage molding and rotting. He takes several precautions to render a wine that reflects the identity of a classic Soave, with its original historical characteristics.
Tasting Notes
Pronounced aromas of Spring blossoms, Alpine herbs, citrus and wet stone. The nose and palate show the layers of complexity that come with aged premium Soave. Along with some developing notes there are surprising fresh fruit notes of ripe peach, lemon and orange zest before finishing with a flinty minerality. The double grape drying process used for this wine does not make for a sweet dessert wine style, the wine is simply more concentrated and fully dry on the palate; it is harmonious and provides a wonderful sensory experience on the nose and palate.
Method
This comes from old vines of Garganega planted on the volcanic soils of Monteforte d'Alpone.  Stefano uses a unique technique in the vineyard; called Doppia Maturazione Ragionata dell'Uva ("a reasoned double ripening of the grapes"). The process is as follows: 25-30 days before the beginning of the harvest, near the end of September, they go through the vineyards and clamp off the vine shoots carry the bunches – thus leaving the grape bunches to dry up in the vineyards. These steps provide grapes with higher sugar levels and low acid content.   The grapes are then harvested in mid November and these bunches are left to dry further on special racks (graticci) before pressing followed by fermentation and ageing in large barrels.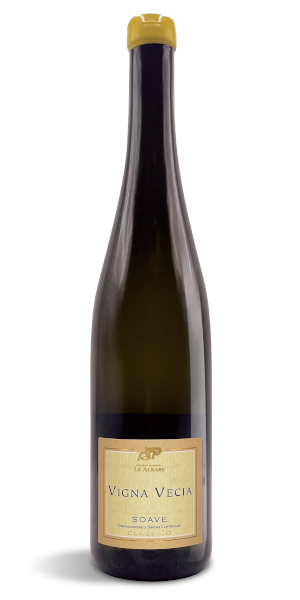 You may also like...
Express Shipping!
For select shipping postal codes, this product may be eligible for Express Delivery! Click here to learn more.