LES FIEFS DE LAGRANGE (750ml)
Grape

Cabernet SauvignonMerlotPetit Verdot

Food Pairing

Aged CheesevenisonBeef
Château Lagrange has a history dating back to the Middle Ages. By 1824 the estate was producing wine (120 barrels annually). In 1855 Lagrange was classification as a 3rd Growth estate in the Official Classification of the Medoc. Les Fiefs de Lagrange is the property's second wine.
The vineyard is a large continuous block with two hilltops of Günzian gravel. The entire property extends over 182 Ha through three appellations: Saint Julien, Haut Médoc and Bordeaux Blanc, which makes it to this day the largest of the Grands Crus Classés in 1855. The center of the estate is the highest point of the Saint Julien appellation. The grape varieties planted are 68% Cabernet Sauvignon, 25% Merlot and 7% Petit Verdot. The production methods respect the desire to combine tradition and modernity with a high density planting, controlled yields and manual harvesting. The classic Bordeaux vinification is carried out in temperature-controlled stainless steel vats. Aging takes place in barrels, 80% of which are new, in air-conditioned cellars. Éric Boissenot, known for making elegant and refined wines that stand the test of time, has become one of the specialists in great Médoc wines. The wines are aged entirely in barrels, 60% of which are new barrels with traditional racking.
Les Fiefs de Lagrange offers the same structure and suppleness as the estate's first wine, with the advantage of being more quickly drinkable.
Tasting Notes
Pure notes of plum, cherry, red berry, mild oak, butterscotch on the nose. The palate remains within the classic medium bodied frame of Bordeaux, nice rounded, savoury red fruit, supple tannins, well balanced by fresh acidity and has a good length. This wine can certainly be cellared, however, it will reward the impatient drinkers if you want to open it and enjoy it now.
Method
Second wine of Château Lagrange, Les Fiefs de Lagrange cuvée is made up of approximately 65% ​​Cabernet Sauvignon, 30% Merlot and 5% Petit Verdot, from vines that flourish on gravel soil of "Gunzian" origin. The grapes are harvested manually and then carefully sorted in the cellar. After traditional vinification, the wine is aged for 12 months in French oak barrels, 25% of which are new.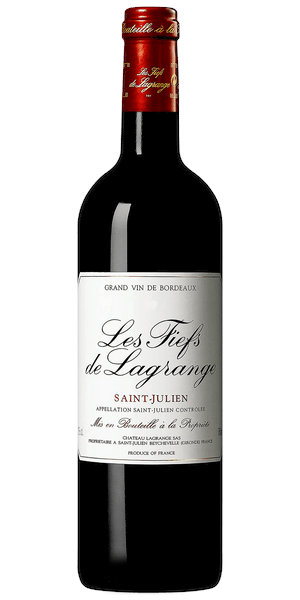 You may also like...