Lieu Dit Winery Cabernet Franc (750ml)
Food Pairing

Grilled MeatGrilled VegetablesSausages
Lieu Dit is a partnership of longtime friends Eric Railsback and Justin Willett. The two met in Santa Barbara while Eric was finishing college and Justin was just beginning his career in winemaking. They were among a small group of young winemakers and restaurateurs in Santa Barbara unified by a common interest in wine and all its mysteries.
After countless bottles shared together and many trips to France, Railsback and Willett decided to found Lieu Dit in 2011 and focus it solely in the varieties indigenous to the Loire Valley, now grown in Santa Barbara County. The varied micro-climates and marine based soils of Santa Barbara County are ideally suited to this set of grapes.
Tasting Notes
Pronounced red fruit, cherry and raspberry with light floral notes, some cinnamon, tomato vine and tobacco. Medium tannins with juicy acidity and nice concentration of fruit. Well balanced and delicious new world Cabernet Franc.
Method
Sourced from own rooted vines planted at the Happy Canyon Vineyard in the east side of the Santa Ynez Valley. The wine is fermented using native yeast. Once fermentation is complete, the juice is racked and the whole cluster lots are pressed. The wine is transferred to neutral oak barrels for the winter. Once malolactic fermentation is complete the wine is transferred to tank prior to bottling.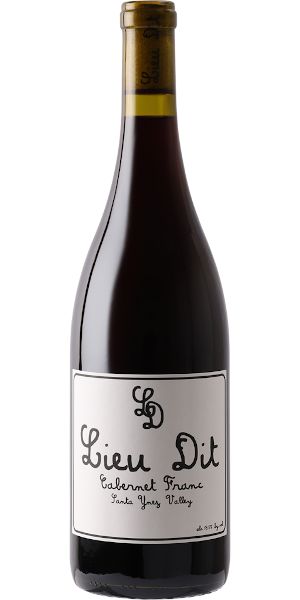 You may also like...