Lightfoot and Wolfville – Farmhouse Cider (750ml)
Food Pairing

AperitifBurgersSeafood
Long before they ever began making wine, the Lightfoot family has been making cider. Following a tradition handed down from generation to generation, the cider was made and stored in the cellar of the old farmhouse or the garden shed, brought out to be enjoyed at holidays, family gatherings, and shared with friends. The term farmhouse stems from traditional cider making days when it was common for cider to be made on a farm from the fruit of an adjacent orchard, in very small batches using timeworn techniques. A philosophy that yields an end product with a strong sense of place, the same way the Lightfoot family think about and craft their wines.
Tasting Notes
Deep golden colour in the glass with aromas of baking spice, roasted apple, and yeasty, toast notes. Completely dry and complex yet delightfully drinkable on its own and paired with food.
Method
Local apple juice was sourced from Stirling Fruit Farms just down the road, a longstanding tradition rooted in the decades long friendship between Don Lightfoot and the late Ralph Stirling Sr. and blended with juice from feral, uncultivated trees surrounding our vineyard. The blend contains five different tart and tannic heritage type apple varieties -Northern Spy, Golden Russet, Bishop Pippin, King, Cox Orange – and 10% Bartlett Pear juice.  Borrowing from the world of wine, the ciders are vintage dated to acknowledge that apples, like grapes, have varying growing seasons and year to year differences that should be celebrated.  This is a dry cider at  7% abv.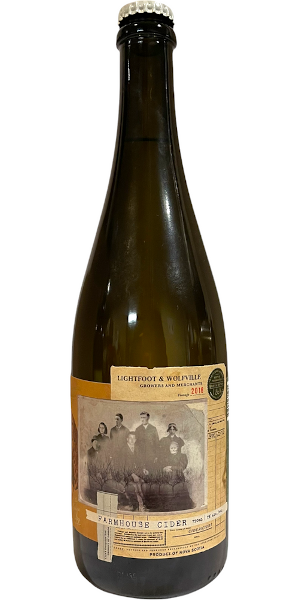 You may also like...