Lightfoot Scheurube Piquette (355ml)
Lightfoot & Wolfville collaboration with 2 Crows Brewing co.
Lightfoot & Wolflville is a family-owned winery in Nova Scotia's Annapolis Valley that is dedicated to certified organic and biodynamic agriculture alongside Old World winemaking techniques.
2 Crows Brewing Co. is the brainchild of husband and wife duo Mark and Kelly Huizink and brewer Jeremy Taylor. They brew modern beers with care and focus on quality. Their aim is to get people thinking about craftsmanship, where their beer is coming from and the various characteristics that make beer great.
Tasting Notes
Scheurube Piquette, a piquette made with Scheurebe pomace. Soft minerality, electric grapefruit, and a bit of ginger.

4.3% abv
Method
Scheurebe is a German grape varietal, relatively obscure in North America with less than 10 acres grown in Canada. Lightfoot & Wolfville picked and crushed the grapes, and 2 Crows macerated the pomace with water for about a week, then separated the pomace and liquid and allowed the piquette to ferment out. After fermentation, the piquette was lightly dry hopped with Saphir and Huell Melon, then it was conditioned in the can with local honey.
Piquette is a style of fermentation done by using the leftover pomace of a fermentable fruit (like apples, pears, or grapes) to extract the last of the remaining sugars. The pomace is mixed with water and fermentation is allowed to happen, this creates a lighter, naturally lower alcohol beverage.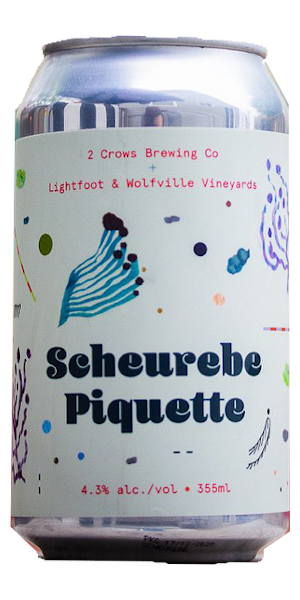 You may also like...