2 Crows X Lightfoot – Scheurube Piquette (355ml)
Tasting Notes

DryFloralrefreshing
Lightfoot & Wolfville collaboration with 2 Crows Brewing co.
Lightfoot & Wolflville is a family-owned winery in Nova Scotia's Annapolis Valley that is dedicated to certified organic and biodynamic agriculture alongside Old World winemaking techniques.
2 Crows Brewing Co. is the brainchild of husband and wife duo Mark and Kelly Huizink and brewer Jeremy Taylor. They brew modern beers with care and focus on quality. Their aim is to get people thinking about craftsmanship, where their beer is coming from and the various characteristics that make beer great.
Tasting Notes
An incredibly refreshing beverage that really showcases the Scheurebe grape beautifully – highlighting what a tropical, fresh and fun varietal it can be. With a big blast of elderflower, overripe pear, light brine, and fresh tropical fruit like lychee and papaya that lead into a very dry finish.

6.2% abv
Method
2 Crows made this using freshly pressed Scheurebe grape skins in late October last year. First, the skins were soaked in cold water to extract the sugars and acids still remaining after L&W had pressed them, they then separated the liquid from the skins and let the piquette ferment out before a light dry hop with Eclipse hops and canning / can conditioning for a lively and bright carbonation.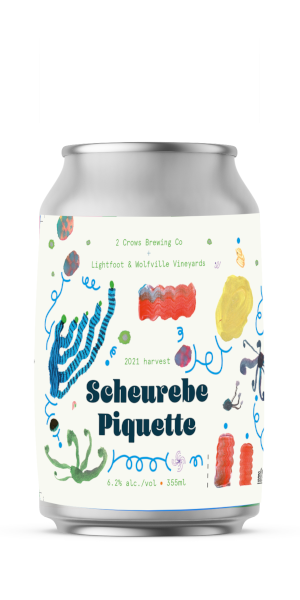 You may also like...