Lilian Ladouys Cru Bourgeois (750ml)
Food Pairing

GameLambRed Meat

Grape

Cabernet FrancCabernet SauvignonMerlotPetit Verdot
The history of Château Lilian Ladouys is inseparable from that of the Médoc. Born in the 16th century, with Cru Bourgeois Supérieur status since the 19th century, the estate is now back in the limelight. The iconic Château Lafite Rothschild is in fact just a few hundred metres away from the estate.
In the 20th century, the estate was hit hard by the effects of the First World War and the economic crisis. The vineyard was divided up and eventually forgotten. During the mid-1980s the estate was acquired by Christian Thiéblot and his wife Lilian, in whose honour the chateau was named Lilian Ladouys. They made an impact with the 1989 and 1990 vintages which matched up to the best wines the appellation had to offer. It was the beginning of a revival.
In 2008, Jacky and Françoise Lorenzetti acquired the estate after falling in love with it. They very quickly poured passion and ambition in the estate and vineyards. Construction work on a new semi-underground cellar began in 2009. Jacky and Françoise have also been co-owners of Château d'Issan, a Margaux Grand Cru Classé, since 2013.
Tasting Notes
When tasted, Lilian Ladouys always reveals a rich and crisp structure with ripe tannins and refined oak which melts into an explosion of fruit. It has the opulence and length of a Saint-Estèphe fine wine. Thanks to the appellation's limestone-clay subsoils, its power is balanced out by a wonderful sensation of freshness.
Method
This is the estate's top wine.  It is matured for an average of 14 months in the barrel room  (40-60% new oak depending on the vintage). Cabernet Sauvignon and Merlot make up the majority of the blend, with the proportions varying from one year to the next. They are supplemented by Petit Verdot and Cabernet Franc. The estate's wines go into gravity-fed vats and undergo vinification with a partially gravity-based system, which is more sensitive to the integrity and subtleties of the grapes and the wine.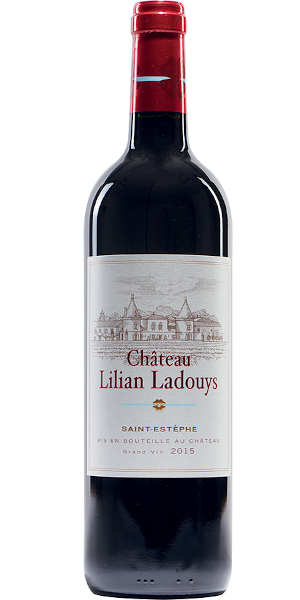 You may also like...