Lone Oak Duet Barrel Aged Saison (750ml)
Region

Prince Edward Island

Sub-Region

Borden-Carleton
Lone Oak Brewing Co is a locally owned and operated, forward-thinking, craft brewery in Gateway Village of Borden-Carleton, PEI. Their focus is on innovation and quality while striving to use local ingredients. Agriculture is an important pillar for the Island economy full of talented professionals, which is why they stand behind their farmers and their products. Lone Oak Brewing Co is excited to be bringing top quality beer and cider to consumers from PEI and around the world.
Tasting Notes
A blend of noble and American hops provide a complex and herbal aroma of spice, citrus, and fruit that lead into a wine-like palate with vibrant citrus tones, Sauvingnon Blanc character, and funky qualities from the mixed yeast culture fermentation. The mouthfeel is light and bright with effervescent carbonation – a byproduct of bottle conditioning, and a dry finish.
Method
The name "Duet" is derived from the fact this Saison was aged in two different French Oak Barrels, that previously held Pinot Noir & Sauvignon Blanc wine, then blended to create a light and complex beverage. Saison beers are often a great style of beer to age in barrel, as they are a fairly neutral canvas for the cultures that live in the wood, and also the flavours derived from any fruit or grapes that could be added.

In this case, the wine barrels used can still carry some of the wine character that is transferred to the beer, adding a whole other level of aroma and flavour.
Duet is brewed with barley, wheat, and oats – as well as Centennial and Saaz hops. Fermented with a blend of Saccharomyces and Brettanomyces yeasts.
4.5% abv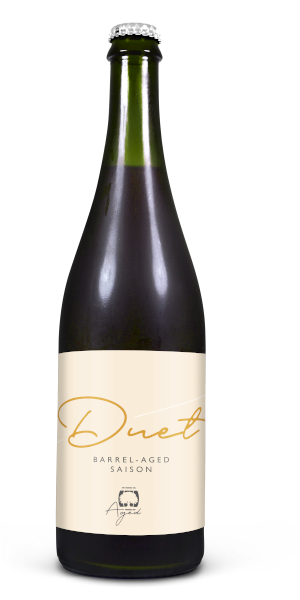 You may also like...