Les Trois Mousquetaires Ceci n'est pas une Kriek (750ml)
Founded in Brossard in 2004, Les Trois Mousquetaires microbrewery brews beers perfect for tasting, of superior quality, and for the most part using products from Quebec. The reputation of their high quality products, their passion, their skills and the dynamism of their team contribute to making the brewery progress constantly and has allowed LTM to become world renowned.
Tasting Notes
Complex aromas of ripe cherry, barnyard leather, earthy funk that lead into a palate many of the same notes, a mouthfeel that's light, with assertive acidity and a dry finish. Can be cellared for a few years of you wish, but very vibrant and enjoyable fresh.
Method
An ode to the Lambics of Belgium. A blend of spontaneously fermented beer placed into oak casks to develop complex flavours, this is a blend of beer aged for 1 year, 2 years, and 3 years – blended further again and re-fermented on fresh cherries.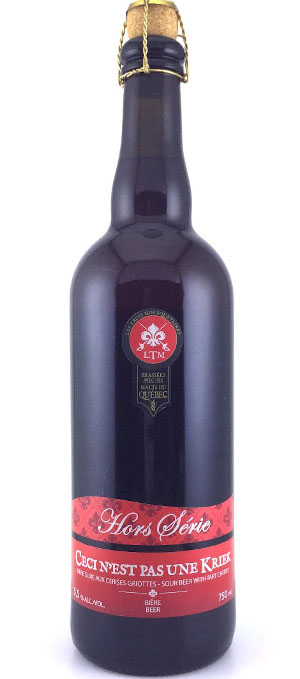 You may also like...