Luckett Traditional Method NV (750ml)
Food Pairing

AperitifoystersSeafood
From greengrocer to grape grower, Pete Luckett's hard work, eye for detail and enthusiasm has made him successful in all of his business ventures. It was only natural that Pete plant a vineyard and open a winery on his breathtaking Gaspereau Valley property. Luckett vineyards produces a selection of wines and styles to suit all tastes.
Tasting Notes
Pronounced stone fruit, apple and pear on the nose. The palate is fresh and lively with a creamy mid palate texture, persistent mousse and lingering finish.
Method
This is the first release of a Traditional Method Sparkling wine for Luckett Vineyards.  This non vintage sparkling is a Cuvee of L'Acadie Blanc, grown on the Luckett estate vineyard; a blending of base wines covering vintages from 2012 to 2017. After assembling, the cuvee was actively bottled with yeast, for the secondary fermentation under pressure in the bottle; then left in tirage for 18 months.  Disgorged with no dosage of sugar added, leaving this wine dry or classified as 'Brut Nature'.  Only 900 bottles were disgorged in 2020; with more to undergo an extended multiyear tirage, for future release.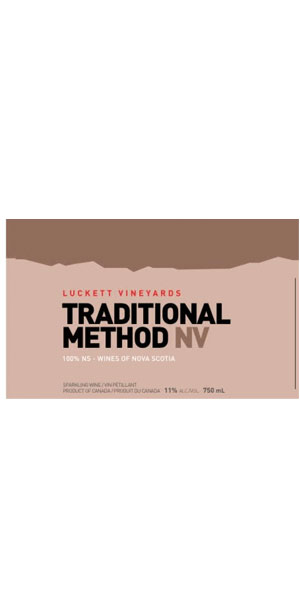 You may also like...